Chefs Table Society Goes Web 2.0
Posted by Mark Busse on Monday, May 4th, 2009
Tags for this Article: Chefs Table Society, forum, vancouver, website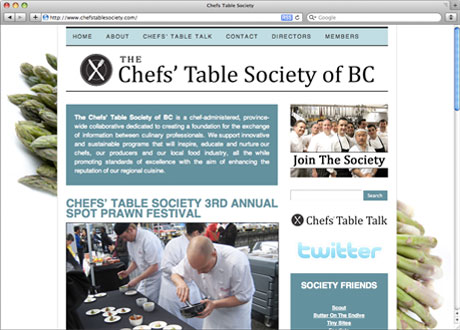 Vancouver's Chefs Table Society, to which a number of the Foodists belong, announced their new online platform today with this press release:
Hi CTS members,
The Chefs Table Society went Web 2.0 this morning with the redux of their website and the launch of ChefsTableTalk.com, a collaborative forum specifically designed for Vancouver's professional chef and restaurant community and to further the society's mission, which is to create "a foundation for the exchange of information between culinary professionals."
In addition to being a venue for the Board to keep everyone abreast of society events and news, Chefs Table Talk will be Vancouver's primary conduit of information for those wanting to keep up to date with BC's restaurant scene.
CTT is split into two forums. The first, dubbed "The Restaurant Scene", is for industry news, while the second, called "In The Kitchen", is specifically for cooking, and will be monitored by your peers.
Chefs Table Talk is designed to encourage its users to meet and stay in touch with friends, mentors, and colleagues from the trade. It is a social media platform, allowing members to create their own profiles with personal photos, web addresses, Twitter names, and all manner of contact information (you can also get society updates on Twitter by following us now at VancouverCooks)
Moderating the website will be Jamie Maw, food writer, raconteur, and co-founder of the society; Neil Wyles, owner/chef of the Hamilton Street Grill and society treasurer; Owen Lightly, a cook at Au Petit Chauvignol and the blogger behind ButterOnTheEndive.com; Karen Hamilton, the new website's chief architect and founder of TinyBites.ca; the team of gourmands at Foodists.ca; and society director Andrew Morrison of Scout.
As of today, you can enter the forum at Scout, at TinyBites.ca, or at ChefsTableSociety.ca. More sites are going to be joining this collaborative hosting project in the coming days and weeks. If you'd like to support the society by inserting a link button to Chefs Table Talk on your restaurant website or on your personal blog, email us at [email protected] with the preferred dimensions and we'll build one for you.
The site officially launched at noon on Monday. 106 people have signed up since. Please go on in, introduce yourself, and help us get started.