The TurboChef 30″
Posted by Matt SamyciaWood on Friday, February 29th, 2008
Tags for this Article: equipment, kitchen, oven, review, TurboChef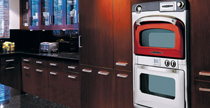 Cooks with 5 Star Results, 15x Faster. Imagine cooking anything – from fresh asparagus in 45 seconds, a frozen pizza in 90 seconds, to a rack of lamb in 4 minutes, or a Thanksgiving turkey in 42 minutes – with five-star quality results and in a fraction of the time. Meats come out caramelized, moist and tender. Baked goods are golden brown, flaky and perfect. Vegetables are crisp, flavorful and nutritious.
The TurboChef 30″ Double Wall Speedcook Oven is a high performance gourmet oven designed specifically for today's home chef. Unique in both design and technology, the oven's signature style serves as a centerpiece in today's high-end kitchen.
For someone who has a wee child and little time, but who enjoys good food I would love one of these ovens. Check out their website for more info.