Spiral vegetable slicer
Posted by Matt SamyciaWood on Wednesday, June 17th, 2009
Tags for this Article: beet, raw, slicer, Vegetables, Vegetarian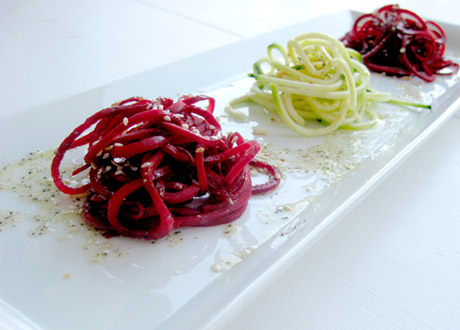 Recently my wife purchased a spiral vegetable slicer made by Paderno World Cuisine. Last night I thought I would try it out. It is so easy to use and the results were fun. The slicer gives raw veggies a whole new interest.
I took a beet that was going a little soft and one zucchini and made veggie spaghetti out of them using the slicer. Next I made a dressing from extra virgin olive oil, lemon juice and honey and finished the dish with roasted sesame seeds.
A great raw starter or snack on a sunny day. Simple, tasty and very quick (less than five minutes).