Roasted Vegetable & Ricotta Loaf
Posted by Sylvia Zygalo on Friday, June 18th, 2010
Tags for this Article: Bavaria Germany, Munich, ricotta, Vegetables, Zamdorfer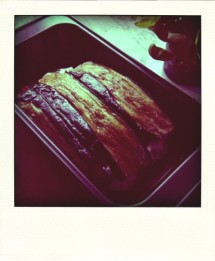 Last night I was at a traditional Bavarian restaurant called Zamdorfer for a farewell dinner for our two friends from NYC. The friends are Sports Illustrated writer, Jeff MacGregor, and his lovely wife, Olya, who were flying back home after some time spent in Munich for business and pleasure. An encore evening of fattening German food felt right.
For good reason, this had been my second visit to Zamdorfer. Something about the importance of heart health, or whatever. It's a "when in Rome" type of place, where you try and restrain yourself from linguistically wrestling with the waitress for some type of modified salad. A salad that will inevitably come with a schnitzel sandwich nestled in between half a handful of spinach leaves and one wrinkled cherry tomato. Trust me, resistance is futile. Here, you go for the big boy. And loyal to my own motto, I ordered the freshly baked pork breast in a dark beer sauce with a giant, squishy potato dumpling and a bowl of bacon coleslaw. I only managed to get through half of it, and struggled to finish my glass of Rioja.
This morning I awoke determined to balance with a series of fresh, vegetable-based meals. While trying to minimize my load from Canada to Germany and taking on an "all or nothing, nothing for all" mentality, I only brought one cookbook a long with me. "Vegetarian Food for Friends", by Jane Noraika, was perfect for my short stint at artery rehab. With crisp imagery and gorgeous design, it's sad to say that I haven't made anything from it yet. Until today. Today I made my first lasagna-like loaf.
I was nervous at first, because it called for several slices of roasted eggplant. This seems like a simple feat, but I have never successfully roasted an eggplant before without it tasting like some sort of poison. Previous attempts had resulted in a bitter, soggy and miserable affair. But I had to trust myself and try again. My resiliency didn't mean that I was without doubt, but I'm here to report that the roasting was a success. And so was the making of the entire loaf, which turned out to be tender, fresh and delicious. The presentation, on the other hand, took a slight beating. But like a friend recently told me, "Don't panic; you can't deal with everything all at once".
Amen. And, eat.
**
2 eggplants, cut lengthwise into about 5 – 6 slices
olive oil, for brushing
1 red bell pepper, halved and seeded
1 yellow bell pepper, halved and seeded
2 zucchini, slices lengthwise
1 c. ricotta cheese
2 tbsp. lemon juice
1 garlic clove, crushed
a large handful of flat-leaf parsley, finely chopped
1 red chile, such as serrano, seeded and finely chopped
1 tbsp. balsamic vinegar
a large handful of basil leaves, torn
sea salt and freshly ground black pepper
Preheat oven to 400F.
Place the slices of eggplant on a baking tray, brush with olive oil and sprinkle with salt and pepper. Roast for 20 – 25 minutes until the eggplant is tender. Sprinkle the red and yellow bell peppers and zucchini with salt and roast at the same temperature for 20 minutes, or until the peppers begin to blister and the zucchini are tender.
While the vegetables are roasting, mix the ricotta with the lemon juice, garlic, parsley, chile, salt and pepper.
When the eggplant slices are cooked, drizzle with the vinegar. Place a damp cloth over the bell peppers and set aside for 5 – 10 minutes, (this makes the peppers easy to peel). Peel the peppers and cut each piece in half again.
Line the loaf pan with plastic wrap, then gently press slices of eggplant over the base and sides of the pan. Reserve four slices for the top. Spread generously with the ricotta mixture, then add a layer of yellow bell pepper, taking it up to the sides of the pan, if possible. Sprinkle with some basil and spread more of the ricotta mixture. Layer the red bell pepper next, followed by zucchini, adding a layer of ricotta and basil after each vegetable. Top with reserved eggplant slices and leave overnight in the fridge.
Invert the load onto a plate and carefully peel away the wrap. Cut into thick slices and serve.