Chilled Avocado, Fennel & Mint Soup
Posted by Sylvia Zygalo on Thursday, July 16th, 2009
Tags for this Article: Chilled Avocado Soup, Summer Soups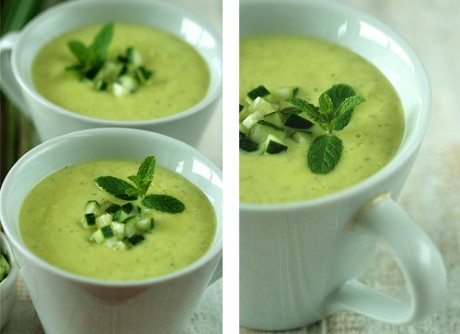 Minus the optional yogurt in this recipe (which I have added solely for your taste) my current diet is severely restricted as I have somehow subjected myself to another 12-day cleanse. Wine, cheese & bread are amongst of the many soul staples of my culinary core that I am to avoid. In fear that I would be consuming nothing but rolled oats & hard boiled eggs for these next days of purgatory, I got seasonally creative & threw together a few ideas.
Not to sound purposefully pompous (really) I already eat well & typically avoid anything artificial or fully charged with sugar. There are two reasons for this detox: one is so that I can reset my metabolism, as it seems to be stubbornly stuck on mute despite my many physical & dietary efforts. I have always believed in a balance of foods in terms of reaching health & fitness goals, but I have to face it – our bodies all differ slightly in terms of nutrition & the lower that number gets, the harder it becomes.. no matter what age. The second is that I'm attempting to work out my teeny tiny muscle of patience & thus trying to make it stronger. It's currently being tested emotionally in my life & I felt that it was now an opportunity for me to challenge myself extensively to see what strength can surface. I will either come out emotionally more sound & physically more in tune with my body, or.. you know – sucking on wine out of a sippy cup.
Ingredients
1 tablespoon olive oil
1/2 white onion (finely chopped)
1/2 green serrano chile (seeded & finely chopped)
2 fennel bulbs (roughly chopped)
6 cups vegetable stock
freshly squeezed juice of 1 lime
1 avocado (halved & pitted)
a handful of fresh mint leaves
sea salt & white pepper
To dress
full-fat plain yogurt
chopped cucumber
crushed ice
The oil, onion, fennel & chile are all mixed into a saucepan & cooked over an easy heat for 20 minutes & until all completely tender. Allow to cool.
Transfer to a blender & add the vegetable stock, lime juice, avocado & mint leaves. Purée until smooth & add the salt & pepper to taste.