Cucumber Raita
Posted by Mark Busse on Monday, April 17th, 2006
Tags for this Article: appetizer, cucumber, Ethnic, indian, raita, recipe, Vegetables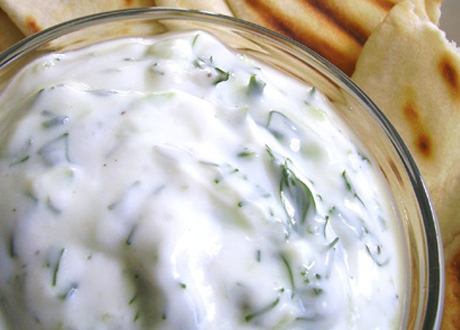 Raita is a simple Indian side dish made with fruits or vegetables added to spiced yogurt generally served as a cool, refreshing accompaniment with heavier curry dishes. There are a great variety of raita recipes and you can easily experiment with the ingredients – I've even seen raita made with grapes! Here is a modified version of a recipe given to me by my friend Vikram Vij of Vij's.
Ingredients:
500 grams yogurt
1 large cucumber (don't use the long, English cucumbers – they're too wet)
1 small onion, diced
1 small green chili (finely chopped)
2 tsp finely chopped coriander (cilantro)
2 tsp finely chopped mint
1 tbsp honey and a touch of sugar (to taste)
1 level tsp salt
1 tsp cumin powder
1/2 tsp black pepper
optional – dash cayenne pepper or red chili powder (if you want it a bit spicy)
Dice the onion and soak in salt water for 10 minutes to remove the harshness. Finely chop the green chili. Peel the cucumber, unless you want to add colour to the raita. Grate the cucumber and add it, with all of its water, to the yogurt. Add the onion, chili, coriander and mint. Mix and add honey, sugar, salt, cumin and black pepper. If the raita appears too thick for your preference, add some cream (or milk) and stir.
The purpose of raita is to serve as a cool, refreshing side dish to heavier curries. However, you may add more cumin, or a dash of cayenne pepper or red chili powder to spice it up if you wish. Garnish with a sprinkle of cumin powder and chopped coriander on top.