Tomato & Pancetta Pasta
Posted by Steve Mynett on Monday, August 3rd, 2009
Tags for this Article: dinner, italian, pancetta, parmesan, Pasta, recipe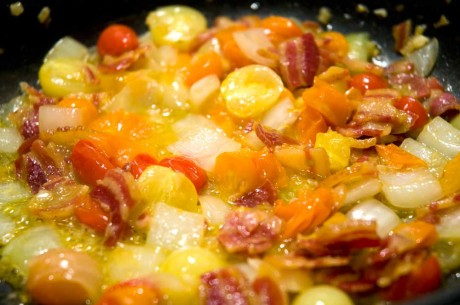 As much as I enjoy spending multiple hours preparing dinner, sometimes that's not possible and the exploration of the "15 minute dinner" is equally as fun. I was in the middle of making a new (to me) pasta recipe last week and grabbed my camera for a few shots and wanted to share it for you.
Ingredients:
Fresh Pasta (I used spinach linguini)
Healthy dose of pancetta
A few cloves of garlic
Some cherry tomatoes
One onion
Parsley to garnish
Fresh parmesan cheese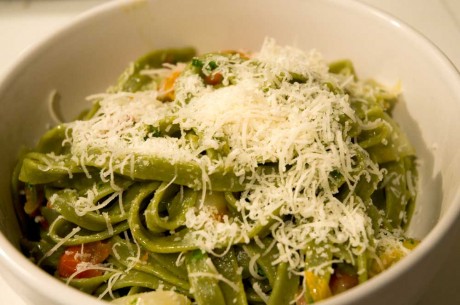 Directions:
Cut up the pancetta and start sautéing it in a non-stick pan. Once it's crispy and brown, it should have released a bunch of oil. Remove the pancetta but leave the oil in the pan and add the garlic and get that cooking. After a minute add the onions (cut to your liking) and tomatoes which have been cut in half and cook those until they breakdown. Once everything looks ready, add back in the pancetta and chopped parsley and cook for another 30 seconds before adding to the pasta. Finish with freshly grated parmesan and serve!