Meet your food
Posted by Ben Garfinkel on Wednesday, August 26th, 2009
Tags for this Article: Andrea Carlson, Bishop's, Blueberries, Hazelmere Organics, John Bishop, Naty King, Pam Spencer, Producer's Dinner Series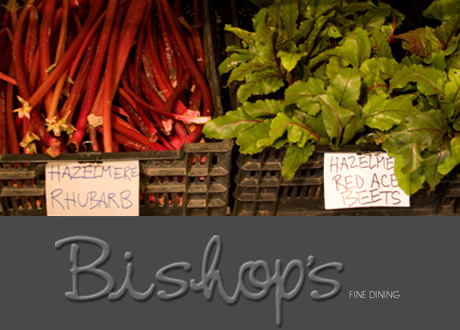 I'm not going to look at blueberries the same way ever again. I just learned how Naty King of Hazelmere Organics picks hers and now I'm afraid to eat anything else! Last night I was fortunate to have been included in a select group of ten people as a guest of John Bishop and Chef Andrea Carlson for the third dinner in their Producer's Dinner Series. The point? to showcase the various local producers and suppliers Bishop's has supply partnerships with one-at-a-time with their own separate menu and to tell each story in more depth. In short, people, farms and products you want to know about.
So, I was sitting next to Naty, an energetic and passionate woman, mother of four, grandmother, farmer and owner of this six acre certified organic farm. The range of vegetables, fruit and herbs they product is impressive indeed. I don't know how we got onto the topic of blueberries, but she pays her staff by the hour to carefully and cleanly pick hers. They are free from twigs, spider webs and other debris and are washed so that you can eat or freeze them right from the box. She charges $4.50/lb, a fair premium some might say. That's more than double what other blueberries might go for at the height of the harvest, but at what cost? Many other farms spray pesticides, and pickers are paid $0.38/lb, not exactly a wage encouraging them to be selective, or to necessarily take their time with sanitation after a bathroom break. It's a real concern considering the most you can hope to do with such a soft, small berry is to rinse it in water.
This is only one of the many things Naty and her store manager Pam Spencer shared, but it sure made an impact. "Why do you have to save on your food?" she asks, going on to explain that food is not to fill you up, but to fuel your most precious body. "Save on your clothes or something, but not your food!" Point taken I suppose.
As much as this meal was to highlight Naty's produce, it was also about using ingredients that are currently in season, a celebration of summer's perpetual harvest. Surprisingly, Hazelmere grows watermelons, which were on the planned menu but unfortunately weren't ready in time so the menu was reworked. We needn't have worried though. The menu was filled with a collage of colours, textures and flavours from the field.
Here's what we ate:
Purple kolrhabi and borlotti bean with bacon and sage
Dungeness crab and cucumber salad with pickled red okra, purslane and cucumber ice
Seared Qualicum Bay scallop with lobster mushroom, New Zealand spinach served with fennel sauté, fava bean puree and rosemary hazelnut butter
Fraser Canyon rabbit with red wine braised chard, green fennel seed roasted beets, zucchini and kale tortellini, rabbit jus
Roasted corn Breton cake with caramelized corn and apricot salad and corn ice cream
As Bishop's is renowned for, the meal was impeccable and superlative. A couple of interesting tidbits. First, the cucumber served with the crab is a spineless variety called Sultan. It's very thin skinned, and very sweet. It's a challenge to sell however since it goes soft very soon after picking. Not a great quality to impart when being squeezed by eager shoppers, but a natural characteristic. It's these sort of small challenges and level of education that really distinguishes Hazelmere. I must also say that the cucumber ice was easily the most refreshing thing I've tasted all summer.
Though not served this night, Naty was also telling me about the nitrite-free natural bacon she has sourced from the Mennonites in Fort St. John. She says it's amazing, though it does need to be kept frozen since it lacks preservatives. I may have to make the trip out there just for that! Oh, and if you're hoping to grab some pine nuts to make that pesto with, forget it. Naty doesn't carry anything from China in the store. Huh? Yes, apparently she tried in vain to source pine nuts and pumpkin seeds from North America, but with no luck. Didn't even realize almost all our pine nuts were from overseas. That's just nuts.
Next month Bishops will be offering a prix-fixe early bird menu for $38 featuring the bounty of the harvest season.
The best part? Hazelmere Organics is right here in South Surrey and is open to the public. Call them at 604-538-3018 for store hours.
(Photo by Roland on Flickr)