Visions of a Bishop's Harvest Table
Posted by Erin Mussolum on Monday, September 26th, 2011
Tags for this Article: Amuse Bouche, bacon, Bishop's, corn ice cream, Harvest Table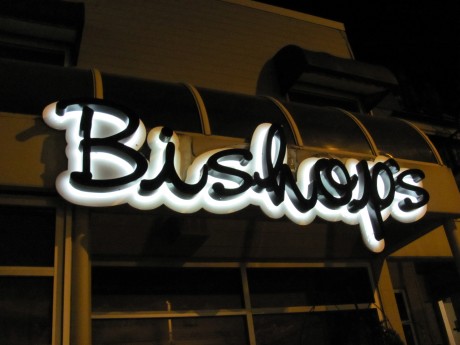 Visions and memories of it appeared frequently through an intense opiate haze. I saw plates, remembered flavours, four courses, and something about corn ice cream.
A few weeks ago I had the opportunity to taste the new Harvest Table menu at the most distinguished, Bishop's.  I had just come down with severe back pain that would eventually put me in a drug stupor for weeks. Thankfully, on this night, I was able to hobble to the event determined to try this menu.
Days passed and while being in and out of my narcotic binge (with my doc's help of course) I kept going back and remembering this amazing meal. Now a couple of weeks later, walking straighter and relatively drug free I thought I would punch out my personal experience.
We started the evening being greeted warmly by John Bishop himself – such a nice man. If you haven't met him – do it, like right now.
After greeting the other guests I was then given a lovely 2006 Blue Mountain Rose to go with our first course – an Amuse Bouche of Dungeness Crab Custard, with pine mushroom and artichoke.  It wasn't my favorite  – and am going to chalk it up to a texture thing for me personally.  The rest of the menu however was stellar!
Bishop's German Butter Potato Soup was a bowl of perfection. This is the kind of soup that transports you to a rustic cabin where instantly you are eating it wearing layers of wool and donning a pair of classic Hunter boots.  It was just SO comforting and cozy. Velvet, rich, yet classically simple, the soup did however have some fun surprises like the "Mexican sour gherkin. – just the right adornment to transport me back to five-star dining.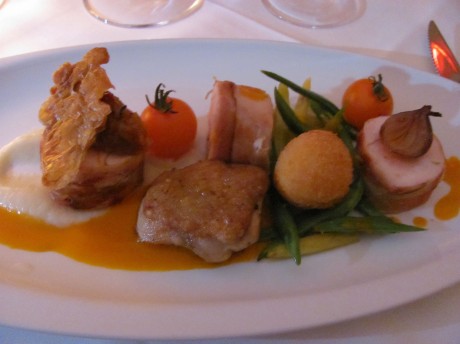 The main was a beautifully prepared plate of Maple Hill Chicken Breast, that was bacon wrapped (thank you) with a delicate accompaniment of summer beans, cipolinni onions, chicken leg, a simple cascade tomato glaze and much to everyone's surprise a little deep-fried quail egg – so neat!  Chef also incorporated a garnish of crispy chicken skin that was intense in flavour and gave me memories of stealing this delectable from my mom's oven roasted chicken as a child.
And then there was dessert.  Wow. Showstopper.  A plate arrived with Corn Pot de Crème (which tasted like sweet corn) – absolutely perfectly balanced, and then a playful serving of caramel corn topped with a dollop of Corn Ice Cream. So unique, fun, and so fitting for the entrance of a new season.
I'm loving this.  Chef's and restaurateurs' are really being aggressive to incorporate flavours and ingredients of the season in their menu offerings.  This is exactly what the Bishop's Harvest Table menu is all about.  It's a growing respect for the connection between the earth and the harvest offerings.  This three-four course with wine pairing (optional) will be changing every two weeks depending on what is in season so that diners are really getting harvest offerings at the pinnacle of their prime. So this means you can come back and try the Bishop's Harvest Table again and again. Great "natural" marketing.
As we were ending our meal one of Bishop's suppliers was entering and making his way to the kitchen, carrying a large box of beautiful heirloom tomatoes. Everyone was eying his colourful bounty.  It's so refreshing to see this "farm to table" experience happening before my eyes as not only a foodist but as a lover of food that is in season.
Unfortunately due to my health I wasn't able to promote the first menu but here is the second menu that will be available until the 6th of October.  Go, enjoy, and celebrate a new season, it is extremely worth it!
BISHOP'S HARVEST TABLE
Second Menu
Sundays through Thursdays
September 25 – October 6, 2011
Pemberton Meadows Beef Neck
cauliflower puree, purslane, borlotti beans
Sumac Ridge Cabernet Franc, 2008
Seared Halibut Filet
lentil and artichoke sauté, shaved fennel and artichoke salad, green fennel seed vinaigrette
Noble Ridge Chardonnay, 2008
Sapo Bravo Plum Cake
hazelnut gelato
Quails' Gate Late Harvest Optima
48 –
optional wine pairings add  25 –
Bishop's is located at  2183 West 4th Avenue, Vancouver, BC.  Telephone 604.738.2025