A BBQ Tour of Duty
Posted by Johnathon Vaughn on Monday, September 7th, 2009
Tags for this Article: BBQ, Gourmand, Gourmet, guerrilla tv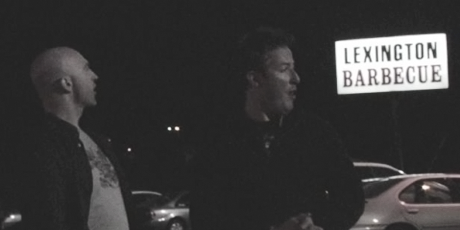 BBQ is a contentious issue amongst purists. A recent documentary gig took me and my GvsG cohort to North Carolina to do some filming. The first thing one should do before embarking on any creative job is to research. This particular gig was to art direct and record interview footage of legendary American tattoo masters for a series. So of course the first research we did was on… where to eat! Known for Eastern Style BBQ, Lexington, NC is home to 21 BBQ joints serving 21,000 people. Tons of Pork Shoulder are slow cooked weekly to the delight of BBQ fans all over the state.
We took our research further and interviewed local heavyweights in the art of BBQ, Memphis Blues. We learned a lot about BBQ and what to look for and what to avoid. Previously the only guidance found on Southern BBQ was found in this highly applauded and very expensive film production of the Southern BBQ Song.
For even more info than what can be found in that musical interlude, join us on our Tour of BBQ Duty at Gourmet vs Gourmand, and check out the 3 part BBQ episode. Time to find some charcoal, applewood and bourbon!