What I ate on my summer vacation
Posted by Eagranie Yuh on Sunday, September 13th, 2009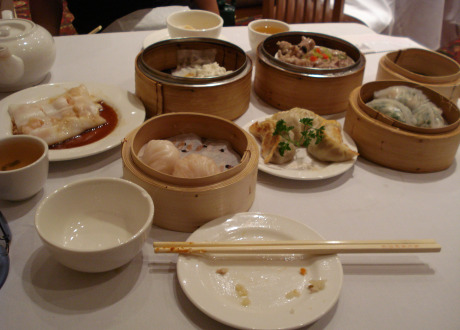 Well, here we are in mid-September. I don't have kids, but my if my kid memory serves me right, there should be slews of essays bouncing around with variations on the title of "what I did on my summer vacation." At least, I had to write that essay every September until at least grade 5. I don't know what craziness kids are up to these days. Composing essays on their cell phones and submitting them by SMS, possibly.
In any event, I thought I'd stick with tradition and tell you what I did on my summer non-vacation.
I ate.
Yes, I sat around in the sun and played outside and went to barbecues. But, overwhelmingly, I ate.
The pinnacle of my summer of eating was the middle of August, when I had an old friend visit from Montreal. Our friendship goes back to the days when we ate ramen straight out of the pot, sitting cross-legged on my living room floor because I didn't own a table.
From such humble beginnings, we embarked on an Extreme Eating Tour of Vancouver. What makes this list even more impressive is that we're both, erm, fairly slim people. And I'm barely five feet tall. Where it goes, I have no idea. I suspect that I have a tapeworm. His name is Tapey, and he sure is cute.
Without further ado, this is what we ate, in the order that my memory came up with:
9 spicy wontons
1 bowl of spicy beef noodle soup with hand-pulled noodles
3 turnip cakes in rice flour pastry
1 cone of pink grapefruit-campari sorbetto
1 cup of passionfruit guava sorbetto
10 crepes with summer berry compote
1 grilled cheese sandwich (contained 4 kinds of cheese)
1 fennel salad with candied walnuts
1 bacon truffle
1 raspberry truffle
5 pieces salmon sashimi
5 pieces tuna sashimi
5 pieces toro sashimi
2 negitoro cones
1 spicy tuna cone
1 scallop cone
2 oysters motoyaki
3 cubes agedashi tofu
3 cubes spicy pan-fried tofu
6 pieces BC rolls
6 pieces avocado rolls
6 pieces yam tempura
6 pieces assorted vegetable tempura
2 dishes neopolitan ice cream
8 pieces toast
6 eggs, scrambled
10 slices of 4-year aged cheddar
2 bowls of pho with rare beef and cooked flank
2 deep-fried Vietnamese spring rolls
2 Japadogs (one oroshi, one okonomi)
2 bowls of my mom's seafood soup
2 desserts from Boneta: bowl of local cherries with Aztec chocolate ice cream, cherry foam and elderflower jelly; lemongrass baba with chantilly, local blackberries, blackberry sorbet and crispy cookie
1 granola bar, kindly donated by a stranger on the Grouse Grind
1 baguette
1/2 wheel of Moonstruck Cheese ash-riped camembert
1 bowl of kalamata olives
1 homemade pithivier
1 plate of Najib's Special from nuba
2 pistachio baklava
8 shiu mai
5 fish balls in curry sauce
2 dishes fried noodles
9 pieces of scallop and shrimp takoyaki
1 skewer of grilled pan bread
1 skewer barbecued shrimp
1 skewer barbecued chicken
1 custard-filled Taiwanese waffle cake
1 sheet of egg-shaped waffle dessert thingies
4 shrimp dumplings
3 shrimp rolls
3 pieces pan-fried turnip cake
3 pea shoot dumplings
3 shrimp-chive pan-fried dumplings
2 apple tarts
1 croissant
1 fig tart from Thomas Haas
1 pecan caramel chocolate
1 cardamom almond chocolate
2 bowls homemade gazpacho
countless bowls of fresh Okanagan fruit (cherries, blueberries, apricots)
handfuls of wild blackberries, plucked off spiky vines wherever we found them
And this is what we drank (it isn't nearly as impressive a list):
Sigh. That was a good week.