Eden West. Fine foods and gifts
Posted by Matt SamyciaWood on Sunday, September 20th, 2009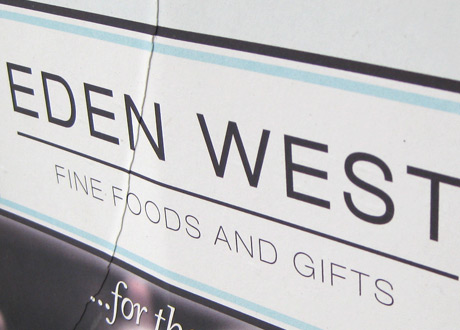 It's been a year or so since I last visited this great store on St.Johns Street in Port Moody. After walking in I said hello to the owner who was busy working in the back. When she emerged she said "Hi, I haven't seen you in a while".
Although I had talked with her about food and her business the few times that I have been there, I was still very impressed that she remembered me (and that I had a kid too). It's a great quality to possess  as it makes customers feel special and worth remembering. 10 out of 10 for customer service.
I was also very happy to see that she had expanded the shop, now offering more merchandise as well as a full kitchen area offering cooking classes.
Visit the website to see a full list of upcoming classes. They range from 5 Star Turkey Knowhow to Knife Skill classes.
Her products are similar to the quality that you may find at Meinhardts on South Granville, but in a less pretentious environment.
It is a gem within Port Moody as there is nothing like it in the Tri-Cities.
Everyone loves a treat – right? Whether it's a quality infused oil or vinegar,  an organic salad dressing or fancy tea, they can all be found at Eden West.
If you live in the neighborhood then a visit to the store is a must. If you live far away then treat yourself to a ride and buy something fine and yummy.
2500 St. Johns Street. Port Moody. 604. 939.6200