Harrison: the Circle Farm Tour
Posted by Degan Walters on Monday, May 4th, 2009
Tags for this Article: cheese, city break, coffee, day trip, farm, Harrison, hazelnut, herb, nut, orchard, tour, tourism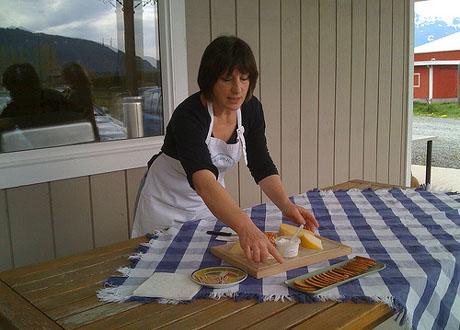 As more and more people live in cities, the knowledge gap between where food comes from and how it gets to your table widens. It's easy enough to live downtown and never go farther than your grocery store for dinner, but for those who want to make a connection (as well as eat really well) we're surrounded by lush farmland, many of which welcome visitors. Harrison is only an hour and a half east of Vancouver and offers everything from cheesemakers to hazelnut farmers – with lots of snacking in between.
The Circle Farm Tour is not really a circle, so it's easy to start with whatever you want to see first and continue on the self-guided tour through the Agassiz/Harrison Mills area at your leisure. We started with the Tulips of the Valley festival, a seasonal stop whose brilliant colours got us prepped for a visit to Farm House Natural Cheeses. Debra (above) and her husband were dairy farmers that decided to diversify, so they bought some cheese making equipment and a herd of goats and now Debra has been inducted into the Guilde Des Fromagers and several of her cheeses were being served in the White House last week.
They have a wide range of goat cheese (from aged gouda to chevre), as well as a full range of cow milk cheeses but the undeniable favourites were Alpine Gold – a washed-rind medium firm cheese that made it onto Vancouver Magazine's list of 101 Things to Taste before you Die – and the chili/ginger/garlic fromage frais that is so good it seems it should have a whole new word invented to describe it. Stop by the cheese shop to stock up, and make sure to go get a nuzzle from the goats out back.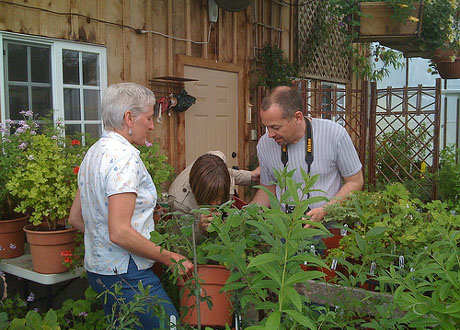 From cheese we went to cleanse our palates with some herbs and dessert Simply Fine Foods tea house at Limbert Mountain Farm. They are a herb farm and nursery that also offers tours and classes and opens for tea and cake from 12 – 4 PM on weekends and holiday Mondays.
The tea room is a beautiful space, with flowered tablecloths and mis-matched tea cups where herbal teas grown right outside are on the menu. Our hosts, Trudi and Claude served some homemade bread with garlic tarragon butter so rich it made me swoon.This was followed by happy sounds from the chocolate lovers in the bunch when a special chocolate mousse was served in a tulip-shaped chocolate cup. Drizzled with a strawberry-basil coulis, it was the perfect afternoon pick up.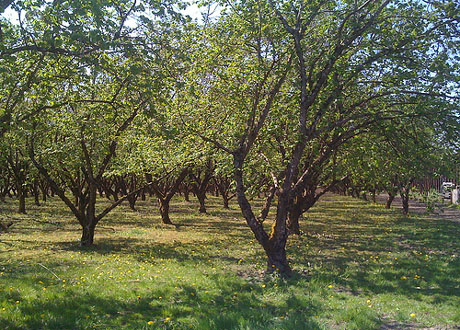 At Canadian Hazelnut, 65 acres of hazelnut trees bump up against a roasting facility. They do their own roasting on-site and also roast nuts for other farms in the area but send the nuts to Oregon to get cracked and packaged. Some gets shipped and sold from there and the rest comes back to Harrison to get made into hazelnut oil, granola, protein powder, flour, etc. The nuts are also candy-coated and sold as snacks in cinnamon, sugar, coffee, BBQ, citrus and more flavours.
Walking into the shop, the air is filled with a warm, earthy nut smell with a hint of sugar to it. It starts the saliva glands working immediately, so luckily everything is availble for purchasing and snacking on right there. My favorites were the citrus and beer nuts, but the chocolate covered maple hazelnut balls were nothing to shake a stick at either.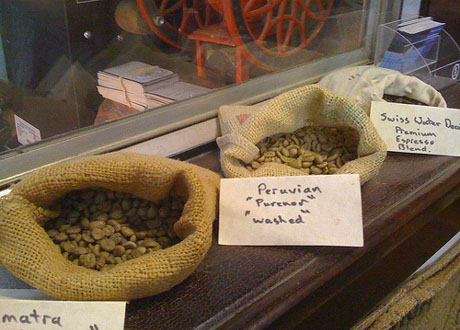 From there, it's not far to the Back Porch. This would be a good place to start your day trip, but it's just as nice a spot to spend a sunny afternoon. Pull up a vintage chair under a tree or wander through the out-buildings full of antiques while you sip a house roasted coffee. Dan roasts all his beans in the back room in a vintage coffee roaster, while Lynda makes pottery. A pound of coffee and a matching mug would make a great souvenir or gift from Harrison since the delicious aroma fades as soon as you get outside.