Fall Salad: Roasted pumpkin with charred radicchio and pomegranate
Posted by Anthony Nicalo on Friday, November 6th, 2009
Tags for this Article: pumpkin, Salad, vegan, Vegetarian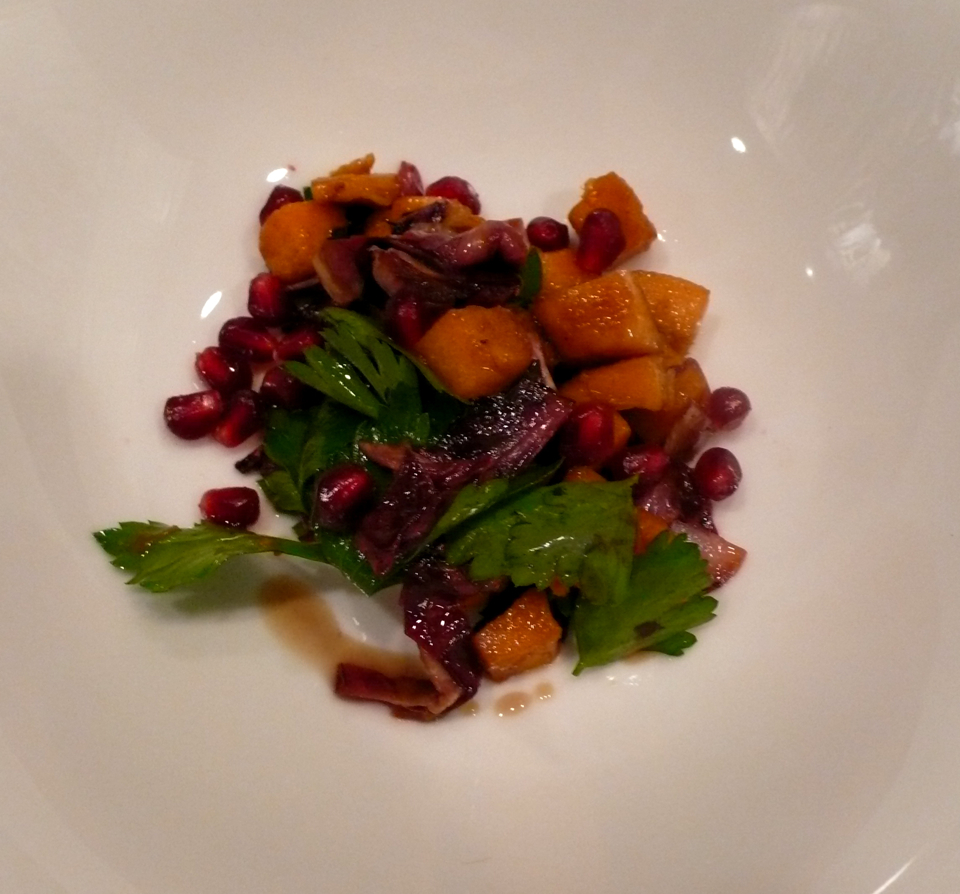 1 small roasting pumpkin
1 small head of radicchio
1 small pomegranate, seeded
Handful of Italian parsley leaves
Renato Fenocchio Olive Oil
Balsamic Vinegar (real stuff, not caramel colored or hurried, probably costs at least $20)
1 T Honey
2 T Butter
Salt
Heat oven to 330 degrees
Quarter the radicchio and drizzle with olive oil and balsamic. Let marinate for 45 minutes, or so.
Cut pumpkin into large equal sized chunks and remove seeds. Gently score the flesh. Place on roasting pan.
Mix butter and honey over super low heat while stirring so it doesn't break. Brush butter honey mixture on pumpkin. Cover with foil and roast in oven until cooked. Remove from oven, let cool slightly and peel the skins away (use a spoon). Cut into medium-bite size chunks.
While pumpkin is cooling, sear radicchio on high heat in a dry skillet. It should char a bit and the leaves begin to soften and wilt. Remove from pan and chiffonade.
Toss pumpkin, radicchio and parsley leaves with balsamic, olive oil and salt to taste. Plate and garnish with pomegranate seeds.