Winter Salad- Roasted Baby Carrots with Leeks and Rathtrevor Cheese
Posted by Anthony Nicalo on Tuesday, January 5th, 2010
Tags for this Article: carrots, Salad, winter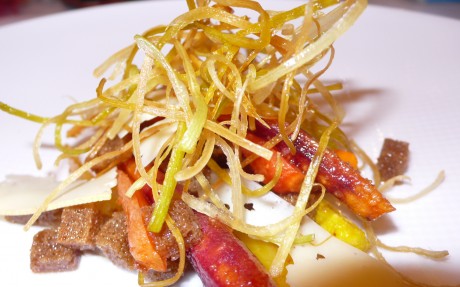 Baby carrots, peeled and roasted in fantastic olive oil.
While carrots are roasting, cut small cubes of handmade, artisan bread and reserve.
When carrots are tender, yet toothsome, put into a mixing bowl to cool. Toast cubed bread- that is, make croutons- in the formerly roasting carrot olive oil pan.
Fill a pot with oil (olive is fine here too) and add julienned leeks. Heat slowly, increasing temperature little by little until leeks are fried crispy, remove to a towel to drain.
Toss carrots and croutons with salt, fantastic olive oil, a little red wine vinegar and plate. Shave a few slices of cheese on top and garnish with leeks.