Hone Your Food Photography Skills
Posted by Degan Walters on Monday, November 23rd, 2009
Tags for this Article: camera, campagnolo, class, food photography, Jackie Connelly, photography, workshop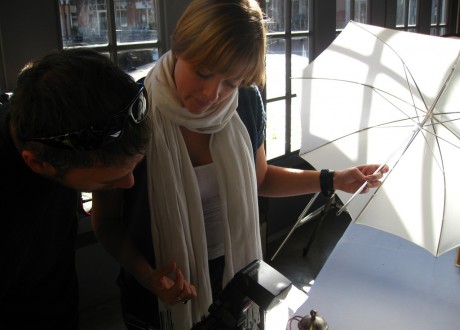 Are you one of those people who brings out the camera at dinner, not to photograph your dining companions, but to capture the gorgeous food on your plate? We've all been guilty of it and here's a chance to make sure that the pictures you produce are worthy of all the re-arranging. Jackie Connelly, a renowned Vancouver food photographer, is teaching a Food & Beverage Photography 101 workshop on Dec. 5th. I took her introductory class last month and learned how to set up the perfect shot, how to create depth of field and how to adjust lighting. Details follow.
Food & Beverage Photography 101: A Workshop for Food Bloggers! (and other creative types!)
A 2 hour, hands on workshop taught by Jackie Connelly and hosted by Campagnolo Restaurant designed to answer the food photography questions commonly asked by food bloggers.
Why is this a perfect workshop for food bloggers?
I continually get asked how to shoot better in restaurants with low lighting, or at home in natural light, and without spending wads of cash on equipment. That is exactly what this workshop is all about:  simple and affordable solutions that will improve your photographs.
Not a food blogger, but love shooting your kitchen creations and want to learn a few techniques? That's OK, you're more than welcome too!
To Register
Email Jackie ([email protected]) with 'Register me for Food Photo 101 Workshop' in the subject line. I will send you some info immediately, as well as a PayPal link to confirm your spot.
The Details
• Workshop: Saturday December 5th, noon-2pm at Campagnolo Restaurant 1020 Main Street
• Q&A with Jackie: following the workshop, from 2pm-3pm over lunch (cost of lunch not included)
• Guaranteed 1-on-1 time for everyone
• I will teach you step-by-step how to set-up your shots using some specific food & beverage examples, using your camera's manual settings
• We will shoot in a variety of set-ups including natural light, restaurant lighting, and a commonly used softbox lighting setup
• I will be sending out some refresher notes before-hand, and will be giving you some workshop notes to take away from the session
• Cost is $45 (gst included) and there are only 10 spots available = the most personal attention from me during the workshop (this does not include the cost of your lunch). *As of November 23rd there are only 2 spots left!
• All you are required to bring is your camera, it's manual, a tripod, and your appetite!
• Danno, our trustee volunteer from a previous workshop, took some photos; you can see them all here.