An Ode to Colombia's Bandeja Paisa
Posted by Laura Siciliano-Rosen on Tuesday, December 22nd, 2009
Tags for this Article: bandeja paisa, Breakfast, Colombia, Queens, Travel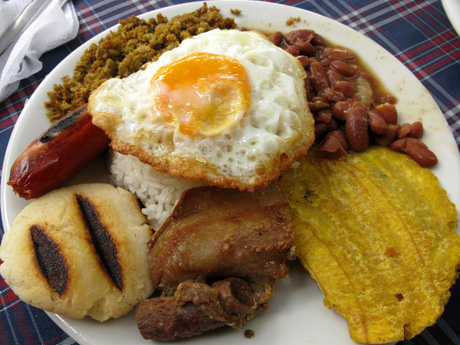 While I'm not necessarily a fan of highly caloric, eat-for-protein, "Hungry Man"-type meals, put me in Colombia and I will gladly consume the bandeja paisa with relish. OK, to be honest, I only ate it once during my trip there last month and it was a "mini" version (above), if you can believe that. (To its credit, the regular-size dish, though twice as large, did include a salad at this particular restaurant.) But man, did it hit the spot.
Though it originated in the mountainous, coffee-growing "Paisa" region of the northwest, bandeja paisa can be found in most parts of Colombia and, indeed, well beyond: It's offered on just about every street corner of my neighborhood in Queens, and any Colombian restaurant worth its salt anywhere will likely have a version of it. But though I've heard it's a fantastic hangover remedy, I'd never tried it before arriving to Colombia.
So, then, what is it? Only a fried egg served over white rice, with a side of chorizo, ground beef, red beans, patacones (fried plantain), chicharrón (pork rind), and a small arepa. Missing from my dish was the usual avocado and the optional salad—the healthiest bits of what Wikipedia estimates to be a 1,500- to 1,800-calorie meal when full size. I did, at least, wash mine down with a fresh jugo (juice).
Of course, it's a genius combination of components that work naturally, deliciously well together. And while Colombia's cuisine surprised me at turns with its refined ceviche, luscious baked breads, rich chocolates, and delicately fried empanadas, it's the photo of this gut-busting dish I keep returning to with fondness. It's familiar yet exotic, simple but scrumptious, and perhaps more than anything, it's abundant and generous—much like Colombia itself.