Japanese Culinary Arts
Posted by Laura Milligan on Tuesday, April 26th, 2011
Tags for this Article: chirashi, Japanese, okonomiyaki, sashimi, sushi, Yoshoku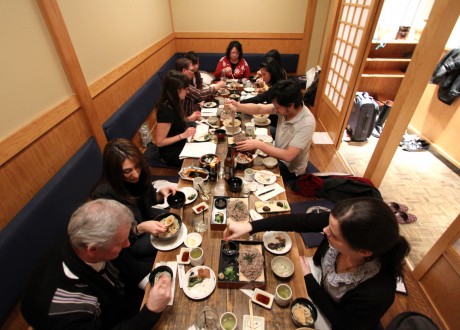 I recently put my employee tuition credits to good use with the UBC Japanese Culinary Arts course led by instructor Hana Dethlefsen. Hana was co-blogger of the former Two Girls Forking and now writes for her spin-off blog Let's Forking! Hana's 5-week course was an excellent introduction to Japanese food in Vancouver. Not only did she share recipes and tips on where to buy Japanese ingredients in the city, but she arranged four restaurant outings to showcase top notch sushi, traditional dishes, fusion and izakaya. It was a chance for me to broaden my horizons beyond my favourite haunts Shiro, Ajisai and Zipang. Here are some of the highlights from our multi-course meals around town:
Temaki
Exploring sushi was the tone of the evening, but some of the most interesting dishes included whole aji tataki. Once we ate the raw yellow fin tuna it was whisked away so the bones could be deep-fried as aji karaage. Such a treat! I also enjoyed the butter fish nigiri with a thin slice of grapefruit. Temaki is very reasonable and I have since returned to feast on rolls.
Japanese Kitchen
A Drive staple, Japanese Kitchen offered seasonal treats and attention to hand-crafted presentation. The head chef comes to JK from Tojo's and Blue Water Cafe, and the hand-cut daikon alone was a labour of love. Because JK focuses on seasonal, local ingredients the menu is constantly changing. Their daily fresh sheet can be viewed on their blog.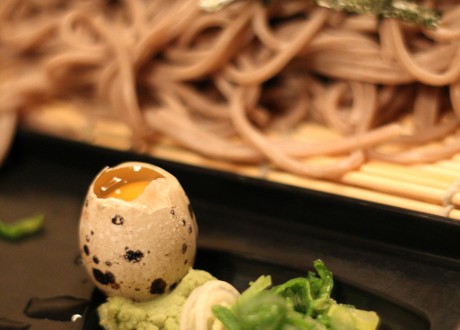 Aki
We happened to visit Aki on Japanese Doll Festival (Girls' Day), which meant the chef treated us to some traditional celebratory dishes. Although I wasn't a fan of the mochi, the chirashizushi (scattered sushi) was fantastic. There was also a simmered black cod dish that was definitely the people's choice.
Zakkushi
Zakkushi was a fitting end to the course, as I experienced charcoal grilled yakitori and hot pot for the first time. The hot pot had every type of animal protein and seafood imaginable and once we had depleted the stock of its goodies it was whisked away to be simmered down to a congee-like dish to finish the evening. If you love the flavour of charcoal grill and feeling like bopping to some throw-back dance beats while eating, this is the place for you. Ita daki masu!