Weeknight Cooking
Posted by Denise Boyle on Tuesday, December 22nd, 2009
Tags for this Article: cheese, home cooking, meat, pizza, quick, recipe, Vegetarian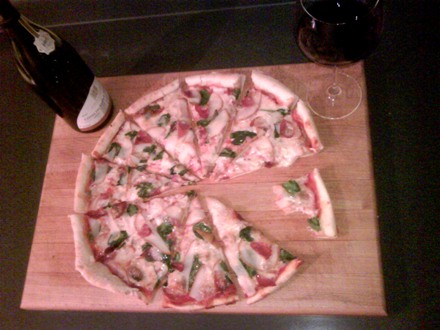 I recently participated in an email recipe exchange.  The idea was to send one person a quick and easy recipe involving ingredients you might have on hand, or that would not be difficult to get.  In return you would receive a number of like minded recipes.  Although I didn't expect to receive tons of amazing recipes, I did think there would be an overall higher caliber of recipe.  I'm not kidding when I tell you that one recipe called for chicken, canned soup, canned mushrooms and ketchup (that was it!), and another that included 2-day old krispy kreme donuts.  I'm not a total food snob, but I like to cook with fresh ingredients and quick and easy does not have to mean processed, low quality food.
So, I thought it might be fun to do a few posts on what we eat at home, say, Monday to Thursday, 'school nights' as it were, since these are the nights we often want something fast & satisfying… 
One of our favourite weeknight meals has got to be pizza.  I know that sounds totally cliché, lame even, but I'm talking about the homemade kind, not the ordering-in or frozen box kind.  The trick to quick and easy pizza is having your dough ready to go.  Now, as much as I like to cook, making yeast dough is one of my pet peeves.  It's never as good as I want it to be, it takes too much time and for $1.85 I can buy good quality, ready made frozen dough at a number of my local Italian grocery stores.  If you take it out of the freezer in the morning, it will be ready and waiting for you and your toppings when you get home. By all means, if you are willing and able, make your own, make a bunch and keep it in the freezer – it's a great staple to have on hand! 
After you've rolled out and shaped your dough (btw, I highly recommend using cornmeal instead of flour as it gives your crust a lovely texture) the best part is deciding what to put on your pizza.  You can keep it simple with tomato sauce, cheese and basil, or you can pile as much meat and veg on it as you please.  It's entirely up to you.  I prefer to stay fairly traditional, always starting with a base of tomato sauce, then grated mozzarella and building from there.  It often depends on what's in the fridge, but lately I love chopped onion, baby spinach, thinly sliced pear, pancetta and blobs of gorgonzola.  Heaven on a crust!  Other favourites include onion, shitakes and spicy gypsy salami, or onion, olives, capers and capicollo.  One of my veggie favourites is caramelized onions, sundried tomato and goat cheese.  Whatever your toppings, a sprinkling of fresh basil when it comes out of the oven is always a good addition.
With a prep time of just 15 to 20 minutes and cooking time of only 10 minutes, pizza has got to be one of our quickest and tastiest week night meals.