Contest: Win a copy of Mark Bittman's Latest
Posted by Ben Garfinkel on Thursday, July 16th, 2009
Tags for this Article: contest, cookbook, easy recipes, How to Cook Everything, Kitchen Express, Mark Bittman, seasonal eating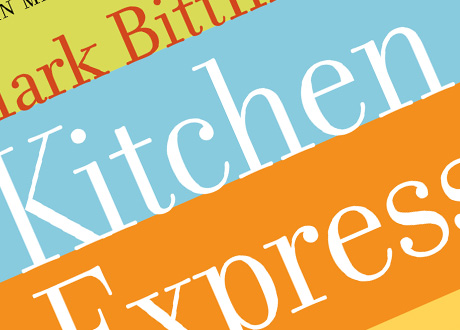 New York Times bestselling author of How to Cook Everything is back with his latest book, Kitchen Express and we have a copy to give away (details at the end of this post)!
I got a little excited when perusing the pages of this book for more than a couple reasons. First, the book offers the promise of some terrific tasting meals in under 20 minutes, something I'm starting to realize is an important thing to be able to do on many a weekday night if I want to hang with my daughter rather than say, de-bone a duck. Fellow Foodist Kevin has this suggestion too, but the possibility of enticing my wife, who does not like to cook, into the kitchen for an easy one-pot meal is incredibly appealing, to us both.
Flipping through the book, the recipes are short and not intimidating in the least, and are divided into sections by season–a good way to eat better, and for less! With pantry stocking lists and simple substitutions, it's a no-brainer. It gets better though. The book also has some really thoughtful and handy navigational categorization:
Dishes that double as appetizers
Brown-Bag lunches
Breakfasts and brunches you can eat anytime of the year
Desserts you can eat any time of the year
Finger food for all occasions
Recipes that barely disturb the kitchen
The easiest of the easiest
The best recipes for picnics
The best recipes for reheating
The best do-ahead recipes for potlucks
Recipes for hot sandwiches
Recipes to toss with pasta
Recipes to serve over Asian noodles or rice
Soups you can chill
I had hoped to try one or two of the recipes before writing this post, and by all accounts, should have been able to since my time's been rather limited (though I did manage to cook four pork butts in a marathon 15 hour smoking). Anyway, I love the idea of these quick routes to common recipe needs/inspiration such as finding a meal that converts to great leftovers and easy potluck solutions. I know it's not quite the season for it, but I want to try Bittman's Quick Cassoulet. he's quick to admit it's far from traditional, but I am indeed curious how good it might be taking a recipe that would normally be best after about three days of preparation and reducing the whole thing down to 20 minutes. Can you even call it a cassoulet at that point? Does it matter? I'll report back on that later.
In the meantime, based only on the potential to create a decent quick meal, I'm going to recommend this book. Great for those who are also not too familiar with the kitchen, or just plain shy. And you know what, it's probably a really thoughtful gift for new parents who don't even realize yet how much they're going to need it.
And now, to the contest: Tell us in as few words as possible, but compellingly, about your favourite quick dish or time-saving tip. Include the recipe if you can. We'll give the book to our favourite. You can also enter the publisher's twitter contest. Until July 20th post your short recipe with hastag #sscexpress.