Dave's Vancouver Beer Guide 2010
Posted by Dave Shea on Thursday, January 28th, 2010
Tags for this Article: bc, beer, brew pubs, breweries, brewpubs, guide, microbreweries, vancouver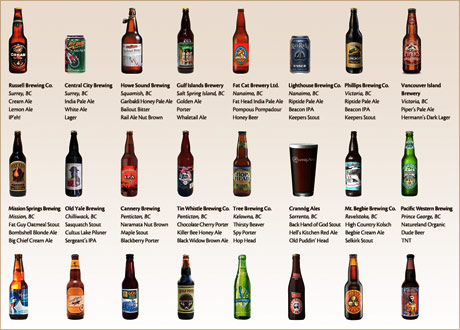 It started innocently enough. "Who owns Okanagan Spring Brewing?" asked my wife one evening last week. "Sleeman, I think."
But then I wondered… who owned Sleeman? And who owned them? And that led me down a deep and twisty rabbit hole that saw over a week of evenings of research and design. I've finally emerged to present you with the first annual Dave's Vancouver Beer Guide, 2010 Edition.
Go ahead and check it out, then come back here and I'll tell you about it.

My criteria for the Beer Guide was fairly simple. First, is it a Canadian beer, or at least marketed as one? Second, is it available in Vancouver? If both are true, it goes on the list.
I broke down the guide into three broad categories: National Brands, Independent Microbreweries, and Brew Pubs. There's a bit of fuzziness with some of these, but generally I think that captures the spectrum.
Where I could, I tracked ownership up the chain to see where the money eventually winds up. This was easier with the national brands since the ownership chain is easily discovered with a quick Wikipedia search, but it might be interesting to dig a little deeper with publicly-traded breweries like Russell and Big Rock.
My "available in Vancouver" requirement leaves out a few BC breweries like Victoria's Canoe, Smithers' Plan B, Osoyoos' Ridge and Pentiction's Barley Mill, which have yet to make an appearance in the Lower Mainland as far as I'm aware. Other than those however, this guide lists most every operating British Columbia brewery.
Two companies in particular defy easy classification. Due to the international brands represented by the Mark Anthony group, its products appear to belong in the National category, despite being a Vancouver company. And Vancouver-based Northam Brewing now controls multiple brands like Whistler and Bowen Island, and even ships the former internationally, but without a better idea of their production capacity they still have the appearance of a micro brand. Both require more research, and I'd welcome some feedback.
And it should be noted that there's absolutely no accounting for quality here; I've done my best to create a guide free of personal bias, but I don't mind telling you here that some rather awful beers are on the list, even in the Independent section. (However most are not, thankfully.)
You may discover a few beers in this guide you've never heard of before. The next step is finding them. Start with the search tool on the BC Liquor Store site and see if you can walk into your local liquor store and grab one off the shelf. If you're not having luck there, and the beer comes in a bottle or can, your next step is to hit one of the higher end beer stores in town. Brewery Creek, Firefly or Viti ought to carry them.
Draft-only breweries like Storm and Crannóg can only be found at restaurants and pubs that carry them. (You can find lists of where, just click on the brewery names to take a look.) And unless the pubs listed under Brew Pubs are local, it's highly likely that the only place you'll find their products in Vancouver will be at the Alibi Room, but even then, only if Nigel has them on tap that day.
One final note for the brewers out there, especially you smaller ones: it's really worth investing in a professional photographer to capture some well-lit images of your products. Put them on your web site, let your fans download high-res versions and help you promote your beers, and you might be surprised at the free publicity you'll get in return. I had a hell of a time tracking down images for some of you, and a side-by-side like this really showcases the difference between professional photos and quick cameraphone shots.
(Special thanks to the lists at BC Beer for helping make my research a lot easier.)