The Beer Geek's Guide to the Alibi Room's 100th Beer List
Posted by Jer Thorp on Wednesday, January 6th, 2010
Tags for this Article: alibi room, beer, brewing, Gotheck norwegian demi-god lord and master of all things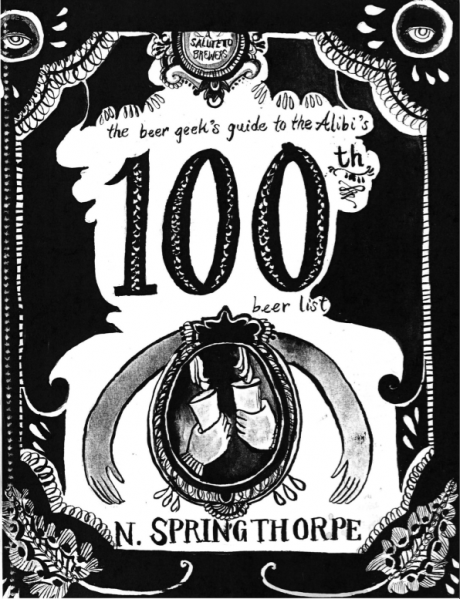 In December, beer geeks (enthusiasts?) lined up early at the Alibi Room to celebrate an auspicious event – the Alibi's 100th Beer List. Nigel Springthorpe types each list out by hand – on a typewriter – so I guess it's not much of a surprise that he would mark this special occasion with some hand-made documentation. This brew-zine, entirely hand-made, is full of information about BC's breweries and brewers. It's also downright hilarious. Here's an excerpt from the section on Central City Brewing:
If I was a Warhammer playing, Fu-Manchu sportin', Dragon slaying over the top beer geek, I might refer to Gary Lohin as "Gothack", Norwegian Dimi God, Lord and Master of ALL Things Hop.

I would bow down before him. And I would surely have a very elaborate effegy of Him in my basement (suite) right beeside my incredible beer archive.

Everytime I cracked open a can of Red Racer I.P.A. I would strip down to my undies, don my necklace of six different kinds of pacific northwest hops (from Dan's brewing supplies, of course) and perform my ritualistic interpretive dance. When the dance was over I would set alight me sage and hop "Smudge", spread the delicious aromas around the room then paint my face with the ashes whilst loudly declaring "Gothack! You are the supreme lord of the Hop. I AM YOUR SERVANT!

Now do you understand how good this guy's beer is?
Click on the image above to download a .PDF of the book.