Beets'n'Blue
Posted by Pailin Chongchitnant on Tuesday, February 2nd, 2010
Tags for this Article: beats, bechamel, parmesan cheese, Risotto, roots, Salad, vitimens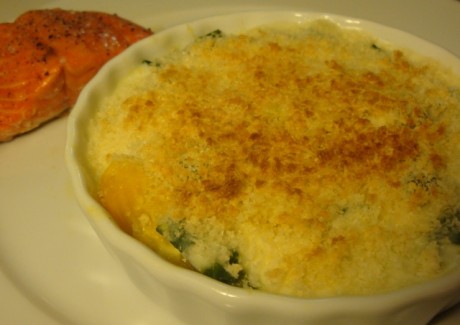 I was walking by beautiful bunches of organic young golden beets when a stark realization hit me that I'd never cooked beets. Ashamed of myself, being a foodist and all, I grabbed a bunch and was determined to cook them for dinner. What, I didn't know. And quite honestly, I don't really fancy beets much, which might explain why I never wanted to cooked them.
As I thought about what I was going to make, I became frustrated because all I could think about was beet salad.  Why? Because it's the only way I've ever seen beets used—that or some sort of a cold appetizer, with the exception of borscht. I eat out quite a bit, and I have yet to see beets prepared in restaurants as a hot dish, and it left me wondering if it's because they aren't any good hot.
Something else was also bugging me. The beets I bought came with a luscious bush of leaves, and it struck me again: I've seen beets used in restaurants countless times, but I can count the number if times I've seen beet greens used with one hand. Where do the rest of the tops go?? As I later researched the mystery, beet leaves are more nutritious than the bulb, having significantly more vitamin A, B, C, iron, calcium and potassium. So if they're edible and that good for you, why doesn't anybody use it? I hate wasting food, so I was determined to cook the leaves, too.
After some thoughts, I decided on the polar opposite of salad—a gratin that utilizes both the roots and the leaves. I paired the flavour with blue cheese, one, because beet and goat cheese has become a cliché in my opinion, and two, because I hypothesized that the acidity and pungency of the blue cheese would elevate the beet's monotonous sweetness (which is what I dislike about beets) to something more intriguing to the palate. The greens I used to add color, texture, and nutritional value.
I named it Beets'n'Blue just for fun. It's a good side dish to sturdy fish like salmon, which is what I served mine with.
Beets'n'Blue
Serves 4
Steam 8 golden beets until tender, about 30-40 minutes. When it's cooled down enough rub the skin off with your fingers. If using red beets, do this with gloves or paper towel so your hands don't stain. Cut the beets into ½ inch chunks, season with salt and pepper. Keep warm, set aside.
Meanwhile, take the leaves of 4 beets, wash thoroughly and cut them crosswise into ½ inch strips, discard the stems. Heat some olive oil in a pan, add 2 cloves chopped garlic and sauté until aromatic. Add beet greens in and cook until wilted, add a splash of water if it gets dry.  Season with a pinch of salt and toss in with the beets. Divide evenly into 4 individual ramekins. You can use 1 larger casserole dish if you prefer. The rest f the greens you can save for other dishes, I stirred mine into a risotto which turned out wonderfully.
Make a béchamel. Melt 1 oz butter in a sauce pan, whisk in 2 Tbsp flour, cook for a minute stirring constantly. Whisk in 1 cup of milk, start out with just a little bit at first, it'll help the flour dissolve more easily. Cook until the sauce boils. Whisk in about 2 oz of crumbled blue cheese and remove from heat, the cheese doesn't need to all melt, little chunks add to the dish by being little bursts of flavors as you chew. Season with salt and white pepper.
Pour the sauce over the beets. Mix ½ cup panko and ¼ cup fine grated parmesan cheese and sprinkle on top. Put under the broiler until golden brown.