Terroir Evocation
Posted by Evan Leeson on Tuesday, May 11th, 2010
Tags for this Article: beets, provenance, terroir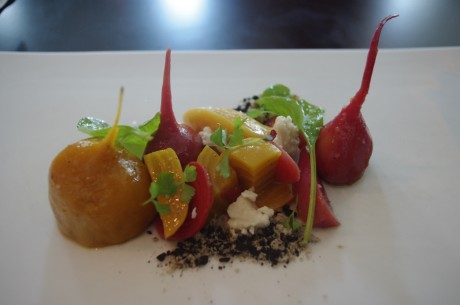 Just below Market St. and toward the rough part of downtown there stands a tall blue monolith called the Hotel Intercontinental San Francisco. Leaving Moscone Centre I was inexplicably drawn toward it like some Lapis Mecca. I was in search of lunch, and I discovered Luce, the restaurant in the lobby. The set menu looked good. Wild mushroom short rib spaghettini with a beet salad and dessert. The entree was delicious. But I digress. The salad was the thing. It is always a pleasant surprise to be blown away by what seems to be an add on. Beet salad. What could be so special?
The description: "baby farm beets, black olive soil / truffle tremor / verjus / yellow beet sorbet". The presentation was fantastic. The "Olive soil" was coarse-grained; similar to coarse ground black pepper, and contained more mysterious deliciousness than black olive. The beets were perfectly done, red and yellow sweetness, some whole, some cut. A couple bright leaves of baby greens adorned the plate. A dollop of yellow beet sorbet and creamy chunks of Truffle Tremor chevre on top, the truffle traces echoing the earthiness of the olive soil. The salad was lightly dressed with the verjus.
I sat and looked at it for write a while before deciding to photograph it for my fellow Foodists. Not only was the presentation evocative of the garden, but the experience of eating it was as well. It was a physical, metaphoric example of the idea of Terroir.
I understand what Terroir means in France. I am not equating the idea of the salad and Terroir, but that's what it made me think of. It made me remember that food comes from somewhere, that it has a history and a place, that vegetables taste of the soil and air and water of their home, and that these factors can be chosen. Right down to goats munching on greens producing milk for chevre, every part of this salad worked together to form a whole experience of a beautiful day on some idyllic farm.
It is a good day when you break for lunch at a conference and have a revelatory, unplanned food experience.
About Luce: Newly awarded a Michelin star, Luce showcases the legendary wines of Frescobaldi with a sophisticated New American menu, and a wine list of distinction. The kitchen is run by Chef de Cuisine, Dominique Crenn, who Esquire magazine named as Best Chef of the Year 2008, with Luce recognized as one of the 20 Best New Restaurants 2008. A well-designed, with value and selection in mind, wine program is designed by Wine Director and Bar Manager, Amy Currens. The alluring décor of the 130-seat restaurant is urban and sophisticated, but equally inviting and unpretentious. At Luce, you will find a perfect balance between food and wine, and a talented, passionate staff collaborate to make every guest's experience highly memorable. We look forward to seeing you soon.