How To Find Goodness That Doesn't Involve Meat
Posted by Jackie Connelly on Thursday, March 18th, 2010
Tags for this Article: Isa Chandra Moskowitz, Spinach Linguine with Basil-Cilantro Pesto and Artichokes, Terry Hope Romero, vegan pasta recipe, Veganomicon, vegetarian pasta recipe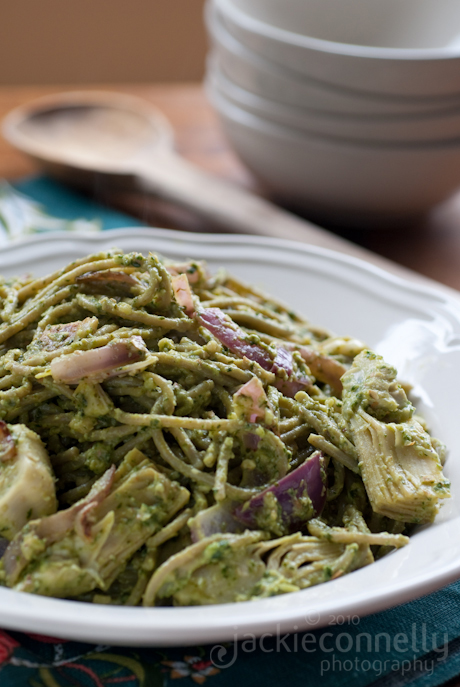 I don't eat meat. I think it's gross.
There, I said it.
And I think there's about a bajillion things in the world that can be made without meat that are full of delicious tasting goodness. In addition, I have (as clearly this article is all about me) recently been converted into one of those people that will fully cuss you out for eating…well…whatever it is I think shouldn't be eaten. You know my type: you're with a group of friends and you suggest a fabulous new charcuterie or steakhouse to go to for dinner, and your buddy's girlfriend looks at you like you just murdered a dozen innocent lambs in front of her. Well ok, so that's exaggerating, I'm not quite that bad. However, I will certainly sneer at the dude down the bar with a chicken wing hanging out of his yapper.
Now I know there's lots of serious omnivores here, like the wannabe sausage thief for starters (and yes! To answer your question Mr. Wannabe, it is wrong!) so I hope I don't offend anyone. Oh, hang on just a jiffy – you offend me every time you rabidly chow down on the aforementioned chicken wing, so who am I kidding. But for all you Foodists folk who enjoy avoiding meat, and love new vegetarian/vegan recipes, that's what I'll be bringing you twice a month.
To start off on our vegan goodness voyage of discovery, I introduce our guide: Veganomicon. Written by Isa Chandra Moskowitz and Terry Hope Romero this cookbook is just shy of 300 vegan recipe-filled pages, and I have yet to be disappointed by anything that I've made from it. If I could marry it I would, it's that good to me. I eat the Chickpea Quinoa Pilaf on a weekly basis, can't wait to have a go at the Mac Daddy (I'll leave that one up to your imagination) and their Asparagus-Spinach Dip (remember this is vegan! so it's dairy-free) has been added to my arsenal of dips & spreads. The one I want to share with you here is Spinach Linguine with Basil-Cilantro Pesto and Artichokes. My sister and I made it one night while watching Canada win a Gold in men's snowboarding and we nearly burnt the s**t out of it we were screaming in celebration at the TV so loud. But I digress.
Here's the recipe:
Spinach Linguine with Basil-Cilantro Pesto and Artichokes
(there's a recipe for both of these components, to be combined at the end)
Serves 4
Total time (pasta+pesto): 45 minutes
*Tip: Make your pesto while the water for the linguine is boiling, so that you can time this right.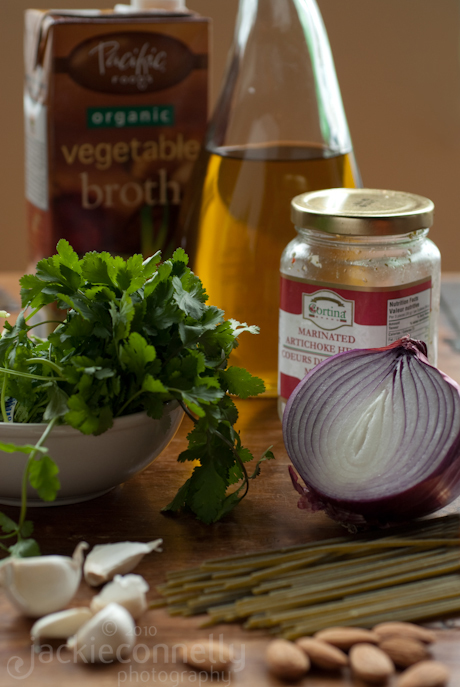 (a) Basil-Cilantro Pesto
Ingredients:
2 cups loosely packed fresh basil leaves
1 cup loosely packed fresh cilantro
1/3 cup slivered or sliced almonds
2 cloves garlic, crushed
2 tablespoons fresh lemon juice (from about 1/2 a lemon)
1/2 teaspoon salt
1/4 cup olive oil
Method:
Place the basil, cilantro, almonds, garlic, lemon juice and salt in a food processor and blend until pasty.
With the food processor on, slowly drizzle in the olive oil. Blend until relatively smooth and no large chunks or almonds are left (*Jackie's note: I don't blend as much – I like chunks of almonds). If you don't have a food processor use a blender and then just add the olive oil at the end.
(b) Spinach Linguine with Artichokes
Ingredients:
1/2 pound spinach linguine (I used a gluten-free pasta)
2 tablespoons olive oil
1 medium-size red onion, slices into thin half-moons
4 cloves garlic, thinly sliced
2 tablespoons white cooking wine, vegetable broth, or water, whatever
1/2 teaspoon salt
Several pinches of freshly ground black pepper
1 recipe Basil-Cilantro Pesto (see below)
1 (15-ounce can) artichoke hearts, drained and sliced in half (don't use the jarred kind in oil, it's expensive and too oily for this; get the kind that comes in brine)
Method:
Bring a large pot of salted water to a boil and cook the linguine according to the package directions. Once you've added the pasta to the water, proceed with the recipe.
Preheat a large skillet over med-high heat and saute the onion in the olive oil until softened, 5-7 mins. Add the garlic and saute for a minute more. Add the white wine, salt & pepper and cook for another 1-2 mins. At this point the linguine should be done.
When the linguine is ready, don't drain it. Use a pasta spoon to transfer it to the pan in batches. This is a good method because you can use the pasta water to thin out the pesto and make sure that everything gets evenly coated. When you add one batch, add a bit of the pesto too and using the pasta spoon, saute to coat.
Proceed with the rest of the pasta and pesto until you've added all of it. If it seems dry, add extra splashes of pasta water.
Add the artichoke hearts and toss to coat. Cook gently over low heat just unit the artichokes are heated thought, about 3 mins.
Serve immediately!
Go cook it now. Do it! Then thank Isa and Terry. And then invite me over for dinner.
Cheerio,
Jackie
p.s. Maybe the authors will read this and send me a free cookbook that one of you lucky Foodists readers could win (hint hint).