Who Doesn't Love A Good Cupcake?
Posted by Mark Busse on Wednesday, June 9th, 2010
Tags for this Article: challenge, competition, cupcakes, judge, Roundhouse, vancouver, Yaletown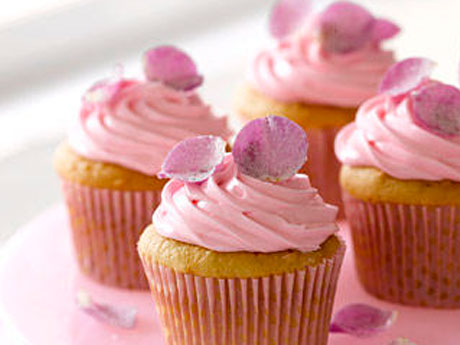 I loves me a good cupcake. Don't you? There's something slightly less guilty about eating a couple (or six) little cupcakes compared to stuffing your face with a thick slab of moist chocolate cake smothered..with…rich….butter…..icing……ooooooooooohhhhhhh—oops sorry, sorta lost myself there for a second.
Anyway, I am honoured to have been asked to serve as a judge of the upcoming 1st Annual Vancouver Cupcake Challenge happening on Sunday, June 20th at the Roundhouse in Yaletown. Competition is said to be healthy, but a cupcake competition is a wholly different situation.
I'm a little worried about eating a billion calories in one sitting—I don't want one night of glorious cupcake delight to cause the onset of type 2 diabetes! But I hope they don't want me to spit like they do at wine tastings—that always seems so wrong. That should be a rule: you just don't spit out good cupcake. Ever.
Speaking of rules, I'm taking my role as judge seriously and have been thinking about what criteria cupcakes should be judged on. I like the idea of judging originality, with decoration and presentation key factors of course. What about frosting style? Or more importantly, cake to frosting ratio? Obviously texture and moistness of the cake itself is very important, but what about the wrapper removal or "crumbiness" of the cupcake? No one likes a cupcake that's hard to get at or one that falls apart all over your favourite shirt. I think this calls for some pre-event cupcake research? Anyone want to help?
Please join me to taste Vancouver's very best cupcakes and help choose the People's Choice Award. Admission to the event is FREE, and apparently there are doorprizes too!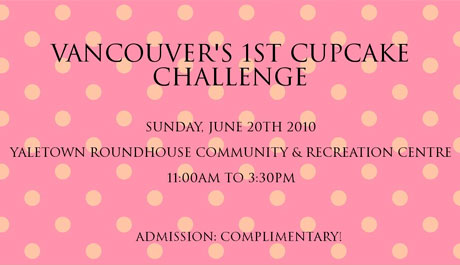 What Vancouver's 1st Cupcake Challenge
Where Roundhouse Community Centre in Yaletown
When June 20th, 2010 11:00am – 3:30pm
Info http://www.eventbrite.com/event/701084964
UPDATE
Yesterday was the event and it was a success from where I sat at the judges' table. There were over 1100 attendees and they even had to close an hour early because all the vendors sold out of cupcakes! Among the cupcake vendors represented were Big City Cupcakes, Bon Gateau, Pink Sugar Cupcakery, Indulgence, Cupcake Couture, Frosting Cupcakery and Baker's Market.
The judges were challenged to rate the following cupcake flavours, based on taste (10 points), presentation (5 points) and originality (5 points):
Strawberry Cheesecake (Big City Cupcakes)
Double Chocolate (Bon Gateau)
Oreo (Cake Tease),
Vanilla with maple/caramel swirl (Cupcake Couture)
Neopolitan (Frostings)
Lemon and Vanilla (Indulgence)
Root Beer Float (Pink Sugar Cupcakery)
The winning entries were as follows:
Vancouver's Best Cupcake Food Bloggers' Choice – Big City Cupcakes' Strawberry Cheesecake
Vancouver's Best Cupcake People's Choice – Frostings Cupcakery's Neopolitan
Vancouver's Best Cupcake Judges' Choice – Frostings Cupcakery's Neopolitan
Congratulations to Mijune and Nicole Marie Events for producing a terrific event.