Swiss Chard with fresh pasta and brown butter
Posted by Jules Morgan on Monday, June 14th, 2010
Tags for this Article: brown butter, fresh pasta, swiss chard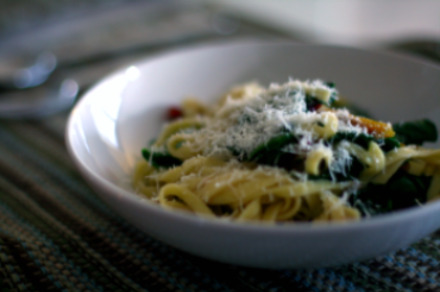 Sunday nights are generally reserved for something a little special, slow cooked roasts or something more elaborate inspired by whatever I was able to get my hands on at the farmers' market or Granville Island, but last night I was simply not in the mood. The night before had seen a small gathering of friends at my dining table to act as tasters as I tackled some very elaborate recipes by Reza Mahammad. The ambitious menu had meant a trek through the southernmost part of my neighborhood, Little India, to source exotic sounding spices, back down to Mount Pleasant for chicken and fish, followed by 2 full days prepping and whipping up an abundance of curries, relishes and chapati.
Simply put, after said feast, several bottles of Riesling and Cliff's mint juleps, I was less than inspired to do any cooking. That is until I opened my fridge and came across a bunch of fresh chard that fellow Foodists Brenda and Cliff had kindly shared with me from their weekly CSA. These gorgeous leafy greens with their rainbow stalks deserved some attention, and I deserved some comfort.
The inspiration for this dish comes from a recipe from The Field of Greens cookbook, which has fast become one of my favourite books. The original recipe calls for a handful of raisins, soaked in hot water for 5 mins and then added at the end. I had none, so to add a little sweetness, I added a teaspoon of honey at the end. If you add raisins, omit the honey.
Serves 2-3
1 bunch swiss chard (the fresher the better), chopped
1/4 cup brown butter
1 shallot
1 clove garlic
Pinch salt
Pinch freshly ground black pepper
1 tsp honey
Olive oil
1/2 cup blanched almonds (pine nuts also work fantastically)
Fresh grated parmesan
Fresh papardelle or fettucine
Dry roast the almonds or pine nuts to a golden brown. Set aside.
Heat some olive oil in a large frying pan or wok, add onions and cook until golden. Add garlic and continue to cook for a few mins. Set aside.
Using the same pan used to caramelize the onions, wilt the chard. Toss in a large bowl with the cooked pasta, onions, garlic and nuts, honey (or raisins) and the brown butter.  Season
to taste and serve with freshly grated parmesan.
Enjoy!