A Cook's Block
Posted by Pailin Chongchitnant on Tuesday, June 15th, 2010
Tags for this Article: cherries, fruit picking, peaches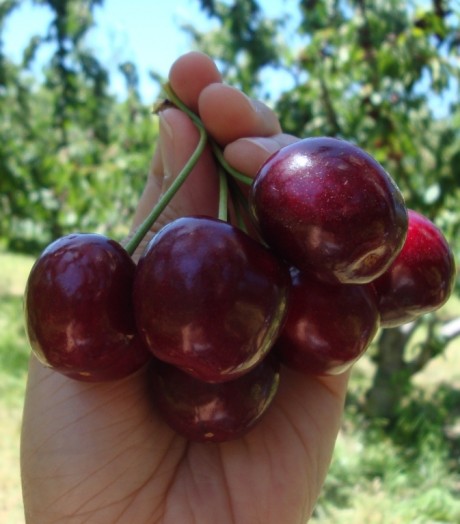 Have you ever experienced something similar to a writer's block, but a cook's block? You live most of your life full of the spirit of kitchen adventures, you create new dishes for dinner constantly and farmer's markets turn you on. Then suddenly it all stops. You've been eating take-out and cereal for weeks, and cooking dinner has somehow become like an exam you didn't study for…
It happened to me. But I was cured, thanks to summer, and thanks to California.
Faced with a day off with nothing scheduled, which is a rarity in and of it self, I searched for creative things to do in the San Francisco Bay Area online. "It's summer," I thought, and I live in San Francisco, there has GOT to be something better to do than shopping. The word "summer" triggered a memory a few years ago in Virginia when I went fruit picking for the first time in my life with my brother. Strawberry picking, to be exact, and until this day they remain the best strawberries I had ever had. Ripe, luscious, sweet, and small like they should be, unlike the fist-sized, diluted, bone-dry ones you see in supermarkets these days. They smelled so strongly of their unique scent it was as though someone had injected an extra shot of strawberry extracts into them.
So i looked around for pick-your-own farms around the Bay Area, and came to realize that Brentwood is famous for cherries. So off I went, after driving less than two hours out of the city, "U-Pick Cherries" spray-painted signs started popping up like Starbucks in Vancouver.
We randomly turned into one, and at the end of a long dirt road drive way was a small Latina sitting at a stand with orange buckets surrounding her. "Do I pick cherries here?" I asked. "Yes, go ahead," she replied with no further instructions or introductions, so we grabbed a bucket and wandered into the field, feeling unsure of what we would find.
Crimson cherries surrounded me and I didn't know where to start. So we started looking for the fattest, darkest ones. Within minutes we were engulfed in the search–we kept finding more cherries that pushed our standard of "plump ones." It didn't end, we wanted to strip the trees bare and it just seemed impossible.
An old lady walked by us with a handful of something yellowish in her hands. Rainiers! The excitement built up and I ran towards the direction from which she came. We found them, but now our eyes were confused…what color should we be looking for? Are they riper when they're more white or more red? Size seemed to be the only thing guiding us at this point, but it didn't matter. We were so captured by the fruits of nature and I felt like the foodie spirit in me was becoming alive again.
We stumbled upon peaches. Peaches?! The lady of the ranch didn't tell us anything about what was available, so this was a nice surprise, so we started going at it with the peaches too.
I came home, a gabutt-load of cherries and peaches on hand. Ideas of desserts, sauces, preserves, smoothies, ice cream and many more started flowing into my head. I couldn't wait to cook them. Among many things, I made a white peach crisp. I tasted it, and the first thing that came to my mind was, "this is so…..peachy." And I know that sounds like a duh statement, but I mean, I have never tasted a peach dessert that exuded so strongly of that unmistakable fragrance of the fuzzy fruit.
The delicious wonders of nature cured me of my cook's block. I had forgotten how mind-blowing a truly good piece of fruit can be. Or a vegetable, or a fish, a steak, whatever it may be. But next time you face the same block, remember what's out there and try immersing yourself in it, maybe it'll cure you too.