Why do we Cheers?
Posted by Steve Mynett on Tuesday, June 15th, 2010
Tags for this Article: beer, celebration, cheers, Drinks, tradition, Wine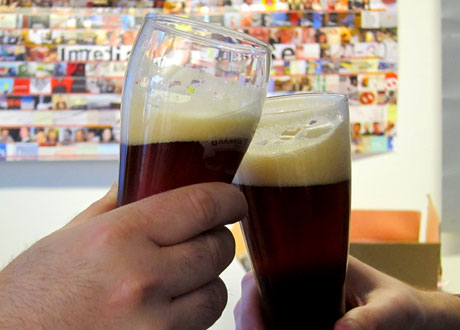 Cheers, Chin Chin, Santé, Salute or Kanpai. The sound of these generally means that drinks are about to be enjoyed with friends. Perhaps an Old Fashioned, Sazerac or a nice glass of Nebbiolo…but I digress.
A few years ago I was enjoying a nice dinner with my cousins in England and encountered a common scenario. The table of four ordered a bottle of wine, a cocktail and a beer. The wine and beer arrived and I was left waiting a few more minutes for my cocktail. My cousin, obviously unaware that I was without a drink, raise his in a cheers. Caught off guard, I grabbed my water glass and replied in kind. My cardinal sin, as I was about to find out, was to clink a drink different than mine. In my case, a glass of water and a glass of wine.
For a tradition rooted in wishing goodwill to friends, NOT clinking glasses initially struck me as odd. Until I thought more about the history of toasting and cheersing. (or of course, one popular version of it)
Clinking glasses started with Lords in old english halls with mugs full of beer. The purpose of clinking glasses, often rather vigorously, was spill a bit of beer into each others glass while looking them directly in the eye. The logic was that if someone had poisoned your glass, you would see the reaction in their eyes. Of course you couldn't cheers and spill your drink into your "friends" if you weren't drinking the same thing.
This backstory explains my incident at dinner in England. Whether this is the truth, or just a good bar story, it does explain many of the customs surrounding our current iteration of it.