Best Banana Bread Ever
Posted by Sharlene on Thursday, June 24th, 2010
Tags for this Article: banana bread, recipe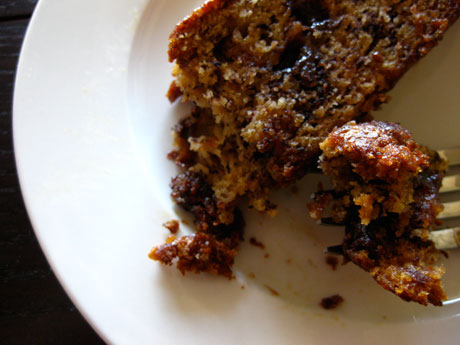 Now before you angrily threaten me with a wooden spoon (after all, your banana bread is the best), give this recipe a try. One really can't go wrong with bananas, chocolate chips, and walnuts. But if you insist that your version is still better, please do share!
Banana Bread
1-1/4 cups flour
1/2 tsp salt
1 tsp baking soda
1/2 tsp cinnamon
1/4 tsp nutmeg
1 cup sugar
1/2 cup butter
2 eggs
3 very ripe bananas, mashed
1 cup chocolate chips
1 cup walnuts, crushed
Preheat oven to 350°F.
Grease and flour a 9″x5″ loaf pan.
Sift flour, salt, baking soda, cinnamon, and nutmeg together several times. Set aside.
Cream butter and sugar.
Beat eggs and add to butter mixture. Mix in bananas.
Add dry ingredients, chocolate chips, and walnuts.
Pour into pan and bake for ~55 minutes.
Remove from oven when a toothpick comes clean.
Enjoy!
Best eaten warm, whilst one is wearing fuzzy slippers.