Consider the Endive
Posted by Degan Walters on Tuesday, June 29th, 2010
Tags for this Article: endive, event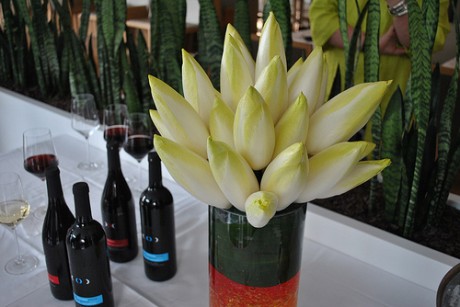 With the almost cult following that bacon has, I always figured there had to be similar pockets of food obsession so I was quite tickled to see an invite to an "endive gala" in my inbox a few weeks ago. A gala! For a vegetable! Ooh la la. We gathered at the Fairmont Pacific Rim's Oru Restaurant, to sample a variety of food featuring the widely unknown B.C. Belgian endive.
Oru's sommelier had mixed up an endive-pomegranate martini while chef David Wong prepared pan-roasted duck breast, kobe sliders with endive relish, with endive tartine and endive ice cream for dessert, amongst other delicacies that Wong admitted didn't make their way often into their Asian-influenced kitchen.
We learned that the average Canadian only eats 6 endive leaves per year, in stark contrast to 18 lbs of endives a year in France, so hopefully we brought the average up. Certainly everyone learned a thing or too about endives and for those of you following along at home, endive.ca has a whole lot of recipes and tips.