Munich: Viktualienmarkt
Posted by Sylvia Zygalo on Friday, June 18th, 2010
Tags for this Article: Germany, Munich, Open-air market, Viktualienmarkt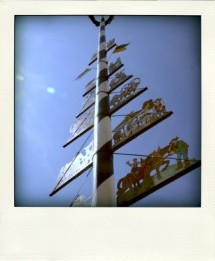 On our arrival to Munich on April 2nd, we were driven directly from the airport to Viktualienmarkt for a celebratory Weißbier. I was too busy processing an additional layer of life to notice that I was jet-lagged, and stood at the stall sipping and soaking it all in. Trips to the Viktualienmarkt have been minimal since then, as my sporadic travels and the depressing dump of rain have either redirected me away from the city or into the lazy comforts of the couch. But it's now 27°C, the cobble-stone streets are buzzing and the beer gardens are brimming with people living life in the present moment.
I love markets, and I knew that my move here would only help turn me into a maven for them. In Vancouver, there is the all year-round Granville Island Market, which will always remain rooted in my heart. In New York, there are pockets of mini-markets that cultivate communities in various districts around the city. I love that about New York; no matter how fast-paced and impatient it is, you could still easily find that little old toothless farmer who sells the best eggs in Brooklyn.
And now I feel like I'm living in a market motherland. Where to begin? Something you should know about me first is that I'm a breed of crazy who loves to shop for food. I adore analyzing packaging design and carefully reading ingredient labels and product marketing information. I could spend hours lingering in a food-related store and have been known to be happy standing in a gas station grocer, adamantly reading the back of a Redbull can.
I decided it'd be best to visit the Viktualienmarkt alone, so I could dilly-dally with my scheiße Deutsche and attempt to decipher the strange assortment of foreign foods. The market is located just off the Marienplatz, which is in the core of the city and a short walk away from our flat in Lehel. It's over 200 years-old and has grown from a general market to a gourmet affair of over 140 stalls featuring delicatessens, cheese, honey, bread, spices, wines, natural foods and of course, an abundant selection of sausages and a generous variety of meat.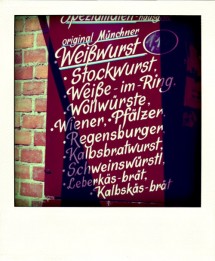 But meat is not the only feature on the menu. Spargel, the German word for asparagus, is scattered everywhere throughout the city and its countryside. It's an obsession. Germany produces 82,000 tons of it per year that still only satisfies 61% of its consumer demand. It's known here as a Königliches Gemüse, which means "Royal Vegetable", and the majority of it is grown white, as preventing photosynthesis produces a sweeter and more tender taste. You can imagine what the public bathrooms all smell like here. There are a large number of fruit and vegetable stalls in general, which adds to my collection of evidence that Bavaria is indeed healthy, if you want it to be. I hear complaints about how the food here is too heavy and difficult to digest, but one only needs to be resourceful and a touch disciplined to not walk out of a stall with a schweinshaxe in hand. Although the market is relatively small, it creates a world for you to momentarily escape into and away from the elbows and slow lingering tourists at the Marienplatz.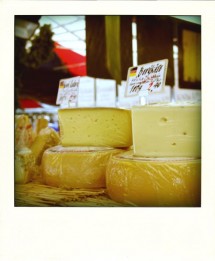 Not surprisingly, I felt that I could spend hours there. But after complaining about the cold for so long, I'm ashamed to say that I let the heat hold me there for just a little under an hour. But before leaving I bought a jar of rhubarb and lemon jam from Rottler and a small bag of grüner herbs with caraway seeds, thyme, tarragon and oregano. The mixture of herbs is a bit like Germany's version of Herbes de Provence.
While the Viktualienmarkt is not a go-to place for general groceries, to have a beautiful Bavarian market in my neighborhood is essential for when I'm ready to make sauerbraten and kartoffelsalat at home.