Happy Hour in Portland
Posted by Laura Milligan on Monday, July 5th, 2010
Tags for this Article: alcohol, PDX, Portland, Travel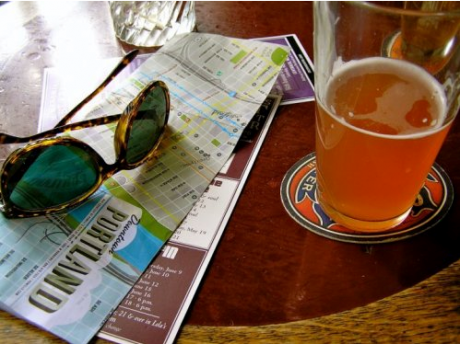 Today in the Foodists Guest Contributor column is a culinary adventure in Portland by new contibutor Laura Milligan. Look for more from her soon. Enjoy!
~Degan Beley, Editor
Recently we revisited Portland for a long weekend of Oregon cuisine, pint-filled happy hours and epic strolls. The sight of the Ace Hotel just makes you lose it a bit. And how quickly can you hook yourself up with a Stumptown Americano without appearing rabid to the relaxed regulars with fantastic tattoos?
From roughly 3 to 6pm you can find a happy hour brewing in every pub in town. Hop fanatics and micro-brew lovers unite; these happy hour moments make you seriously question the coolness of Vancouver. Delicious snacks for $2.50, pints for $3. We felt like we were robbing the city, pillaging their tasty resources before making our getaway: Oregon raised elk burgers at Deschutes Brewery, food cart el pastor tacos, gut-ache Voodoo donuts (my husband couldn't leave without an Old Dirty Bastard for the road, a dangerous concoction of chocolate, Oreos and PB), pear and old cheddar zah at Hot Lips. The pièce de résistance was hands down our anniversary meal at The Farm Cafe. Two years ago the local flavours, cozy atmosphere and incredible prices blew our minds. I honestly didn't think it could be topped. However, when we learned the Oregon asparagus season was in full swing and our server brought me two local Tempranillos (Umpqua Cuvee 2007) to try, fireworks went off. The Farm's handmade ravioli stuffed with asparagus and mascarpone was simply dressed with a lemon-butter sauce, and yet one of the finest items to grace our plates. We loudly appreciated our journey through that meal, drunk on love and locality. Oh Portland, be still my heart.
Best happy hour: Bridgeport Brewpub & Ale House. $2.75 pints (like their Hop Czar, a triple-hopped Imperial-style IPA) and house-smoked almonds and marinated olives for a toonie!
Best happenstance: Ringlers Annex (in a tiny Flatiron) with their unfiltered raspberry wheat beer and chatty bartender.
Best salad: The Farm Cafe's "wild, locally foraged greens tossed in a caramelized shallot vinaigrette with rum and paprika glazed hazelnuts and shaved parmigiana reggiano". Even the hazelnuts are local, roasted with a house seasoning involving brown sugar and Tabasco.
Best Portland breakfast: Fresh fruit, a Stumptown coffee, a Gibassier pastry (anise and candied orange peel) from the Pearl Bakery. Dawdling in the Ace lounge with the newspaper and people watching.