A Warm Aboriginal Welcome at The Fish House in Stanley Park
Posted by Mark Busse on Monday, July 19th, 2010
Tags for this Article: aboriginal, Fish House, Karen Barnaby, Klahowya, milkweed pods, restaurant, vancouver, welcome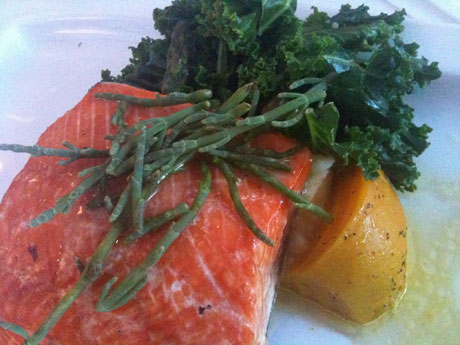 "Klahowya" is an aboriginal greeting meaning "welcome" and I certainly did feel at home among friends at the launch of The Fish House's Klahowya menu a few days ago.
To honour the new Klahowya Village aboriginal experience in Stanley Park, Chef Karen Barnaby and her talented kitchen staff have created a menu that will run until September 6th. The dishes feature fresh, local ingredients like cedar planked salmon, cold smoked bison—even pickled milkpods and elderberries—prepared in traditional aboriginal ways and paired with a selection of wines from aboriginal Okanagan winery Nk'Mip.
I thought the food was delicious, the wine quite terrific, and of course the setting idyllic, but don't take my word for it, check out this video by local foodie Jason McRobbie (@thegoodfooddude) or check out The Fish House online. It's a popular spot, so I recommend making reservations.