2011 National Chefs Conference in Vancouver
Posted by Degan Walters on Monday, June 6th, 2011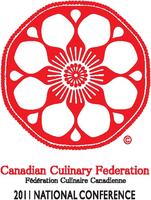 From June 10th – 16th, Vancouver will be hosting the 48th annual National Chefs Conference. This prestigious event arrives in Vancouver every 10 years and will be attended by chefs and culinary enthusiasts from all over the world. Hosted by the Canadian Culinary Federation Culinaire Canadienne (CCFCC) and the BC Chefs' Association, the conference is an opportunity for chefs to come together and compete, share knowledge and of course eat.
The conference agenda includes several competitions, delicious meals and keynote speakers:
Tastes of CCFCC Canada Welcome Reception www.tastesccfcc.eventbrite.com
June 12, 5 – 10 pm, Renaissance Vancouver Hotel Harbourside
This welcome reception features 15 food and beverage stations where junior chefs and their mentors create an unforgettable taste of their province. Each station represents regional cuisine, and is paired with a Canadian beverage. Opening with the Komo Gway Dancers, an XFour Martini Station, and the BC Chefs' Association Awards.
Aboriginal Potlatch Supper www.potlatchsupper.eventbrite.com
June 13, 6 – 10 pm, Vancouver Community College
Hosted by Vancouver Community College and the VCC Aboriginal Culinary class, this amazing dinner features indigenous products, traditional recipes, and a mix of modern and traditional cooking methods. Nine traditional menu items; each station has a choice of two beverage pairings.
Tastes of Halifax, Nova Scotia Breakfast www.tastenovascotia.eventbrite.com
June 14, 7:00 – 9:00 am, Renaissance Vancouver Hotel Harbourside
The host city for CCFCC 2012 brings tastes from Eastern Canada. Halifax, proud to host CCFCC 2012 are flying in Nova Scotia lobster, and creating a true Nova Scotia breakfast. Attendees will be rewarded for attending this delicious breakfast with a complimentary entry for an "all expenses" paid trip to CCFCC 2012 – flights, accommodations, and full conference package – for two!
Dragon Feast of the Century, www.dragonfeast.eventbrite.com
June 14, 12:30 to 3:00 pm, Rain Flower Seafood Restaurant, Richmond, B.C.
Fifteen award winning chefs showcase Chinese visual and culinary arts, creating this six course luncheon with fresh seafood, including crab and lobster, Fraser Valley Duck Breasts, Arctic Charr, AAA Tenderloin Beef and fresh local Asian greens.
President's Ball, www.presidentsball.eventbrite.com
June 15, 5:30 to 10:30 pm, Renaissance Vancouver Hotel Harbourside
The final gala and awards presentation. Winner of all five competitions and challenges will be introduced and recognized. Culinary Team Canada, led by Chef Simon Smotkowicz, creates the multi course dinner, featuring the best of Culinary Team Canada chefs, using the finest of products.

Keynote Speakers
Chef Rob Feenie, Food Concept Architect, Cactus Clubs Ltd. on The Business of Being a Chef , June 13, 8 am sharp. Breakfast 7:00 am to 9:00 am
Chefs Panel – Women in the Industry, June 13, 12:00 – 2:30 pm
Chef Karen Barnaby, Fishhouse in Stanley Park
Chef Dana Reinhardt, Windset Farms
Christa-lee McWatters-Bond, Local Lounge & Grille, Summerland
Chef Robert Clarke, C Restaurant, on Sustainability and our Future , June 15, 8:00 am sharp. Breakfast 7:00 am to 9:00 am
CCFCC Golf Tournament – Chefs Convention Fabulous Country Classic
A full day of networking, new products, food and beverages, 18 golfing Celebrity Chefs, power carts, lunch, dinner – a pig roast hosted by Johnson's Pork, and so much more. www.ccfccgolf.eventbrite.com