Trafalgar's Ocean Wise Dinner
Posted by Degan Walters on Thursday, July 22nd, 2010
Tags for this Article: oceanwise, Seafood, sustainable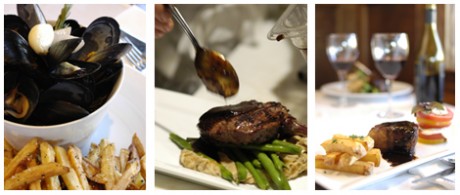 Trafalgar's Restaurant in Kits, best known for having the largest dessert menu in the city, is changing gears with a specially organized Ocean Wise Dinner this Sunday, July 25th. They've had an Ocean Wise menu for 2 years now and are celebrating with a spread of sustainable seafood and B.C. wines.
Check out this lavish menu:
Amuse bouche
Shellfish Trio: kusshi oyster, qualicum scallop ceviche, salt spring island mussel gratin. Suggested pairing: Summerhill Cipes Brut
Rare Seared Albacore Tuna with soft boiled egg, frisee, anchovy dressing. Suggested pairing: Tantalus Riesling
Pan Roasted Lois Lake Trout with potato latke, melted leeks, bearnaise. Suggested pairing: Joie Unoaked Chardonnay
Lemon Berry Tart. Suggested pairing: Elephant Island Framboise
It's only $52 per person, and $32 to add the wine pairings. They have a couple of seats left so get Sunday dinner sorted and support a great restaurant and a great program. You can book your table by calling the restaurant at (604) 739-0555 ext 1.