A Sea of Sustainable Activity
Posted by Degan Walters on Thursday, February 10th, 2011
Tags for this Article: ocean, sea, Seafood, sustainability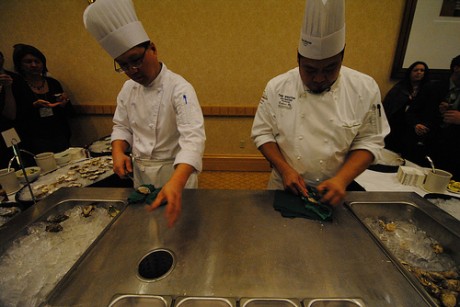 Bluefin Tuna are in danger of extinction, oysters are disappearing and more than 170 billion pounds of wildlife are being removed from the seas yearly. By all accounts, the oceans are in rough shape.
But it hasn't gone unnoticed and there's been a flurry of sea-related activity in Vancouver lately, especially in the food communities.
Seafood Summit Comes to Vancouver
Last week almost 700 guests from more than 30 countries met at the Westin Bayshore for Seafood Summit 2011 to discuss the state of the world's fisheries and their sustainability. Talks on food security, traceability of seafood sources, impacts of ocean acidification, aquaculture, fair trade and certification, sustainability in developing nations were discussed and Foodist Anthony Nicalo from Foodtree sat on a panel to offer commentary on "From Consumer Confusion to Confidence—The Roles of Producers, Businesses, Governments and Others in Creating Clear Choices for Sustainable Seafood".
In between sessions, the Seafood Champions Finalists were announced to recognize individuals and companies for outstanding leadership in promoting environmentally responsible seafood. Out of more than 50 nominees, Chef Robert Clark of C Restaurant was the only Canadian on the list!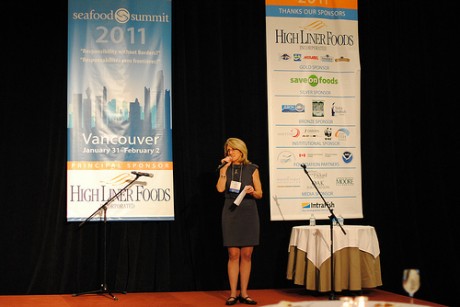 I didn't have a chance to attend as many sessions as I would have liked but it was so great to see so many people in one room concerned and working towards a common goal.
Ocean Wise has an iPhone app
Ocean Wise now has a handy iPhone app to help you find nearby Ocean Wise partners and make sustainable seafood choices. I've been using Monterey's Seafood Watch while I wait but it's good to finally have our own.
Sustainable Dishes
It used to be that sustainable seafood was a nod on menus, a few token dishes alongside old favorites, but Frank Pabst at Blue Water is bringing back the Unsung Heroes menu and even chain restaurants with high turnover like Glowbal are working with Organic Ocean to bring in the best possible seafood selections.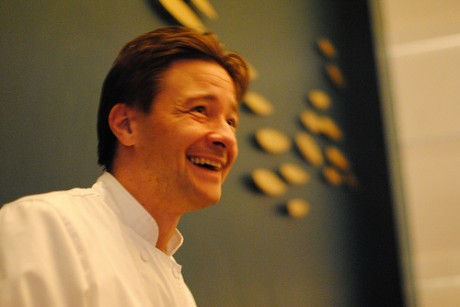 At a Coast Dine Out preview dinner, we were impressed by the Glowbal Group's commitment to working with sustainable seafood and creating menus that aren't wasteful. Because they've got 6 restaurants now they are able to work with Organic Oceans to buy big halibut and other fish and share the catch between kitchens. And they won Dine Out's "Best Bite" award, so diners were pleased too.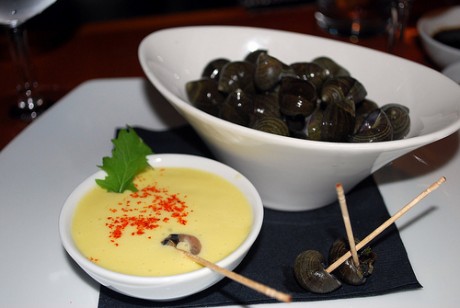 At last year's Unsung Heroes event I had the periwinkles for an adventure but other dishes also look great; sardines served with pine nut gremolata, cardoon, black olives, preserved grapefruit and citrus chili gastrique or red sea urchin in fresh squid ink pasta with crispy market squid, quail egg, and sea urchin cream. They're small plates, between $10 – $15, so you can have a few.
Like always, 10% will be donated to Ocean Wise, of which Blue Water Cafe is a founding member.
What do you think about seafood sustainability? How does it affect you?