Canadian Chefs' Congress 2010: Oceans for Tomorrow
Posted by Brenda Lowe on Wednesday, September 1st, 2010
Tags for this Article: Chefs Table Society, conference, fundraiser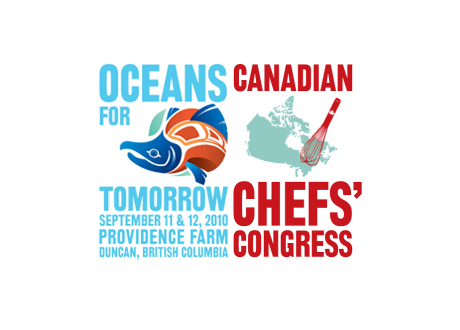 The Canadian Chefs' Congress is a gathering of chefs from across Canada to cook, eat, drink, share, learn, and connect with food producers who are passionate and dedicated to improving the quality of Canadian food culture. It was started in 2008 by chef Michael Stadtlander of Eigensinn Farm in Ontario, with the first congress taking place at Eigensinn. Subsequent ones will be in a different province, taking place every two years. The next congress is being held on September 11 & 12, 2010 at Providence Farm in Duncan, with a focus on seafood sustainability.
This summer, the held three Mystery Kitchen Tour fundraisers in Vancouver. Diners pay a fixed price for an evening of food and wine grazing, but would not know ahead of time who the chefs were, what dishes they were preparing or what the wine pairings were. Given the caliber of local chefs and the quality of their food, it was no surprise that the first event was a runaway success. And since the group of chefs at each tour was different, one could have gone to all three and had a different experience each time.
The first and third mystery tours were held at the Pacific Institute of Culinary Arts (PICA) while the second was held at the Vancouver Club.
I had the opportunity to attend the third mystery tour, and it was one of the most enjoyable dining experiences I've had in Vancouver. Each chef and their student helpers were set up in their own kitchen classroom at PICA, and the diners go from room to room sampling the dishes and wines as they please. For those who are interested in the culinary arts, this is about as close as a diner can get in the restaurant kitchen, and it was fantastic. How often do you get to talk to a chef while they are assembling your dish in front of you? Or talk to a wine representative for each of the matching wines?
Before the chef's rooms were opened up, diners were greeted with a glass of Thornhaven 2008 Rose.
Julian Bond (Executive Chef and Program Director of PICA) and Robert Clark ("C" Restaurant) gave a great speech about the Congress, their goals and hopes, and reminded us why we were there. Their enthusiasm and excitement were infectious, and it's good to remember that there's a lot more at stake than what's on the plate in front of you.
The chefs and wineries that supported Mystery Kitchen Tour #3 were as follows.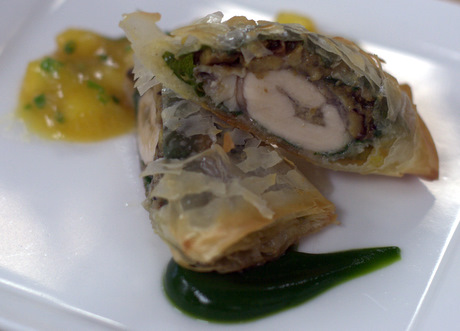 Chris Irving of Pourhouse
Smoked fanny bay oyster "Wellington" with Colorado porcini duxelle in phyllo pastry, Okanagan peach marmalade, watercress puree, oyster liquor gellee, chive garnish.
Burrowing Owl 2008 Chardonnay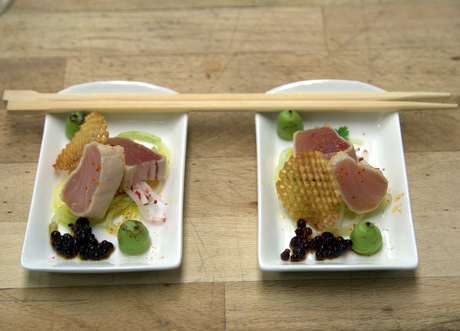 David Hawksworth of Hawksworth Restaurant (not yet open)
Seared Albacore tuna with charred avocado puree, soy sauce caviar, radish/cilantro/cucumber salad, potato crisp garnish, togarashi powder.
Beringer 2007 Viognier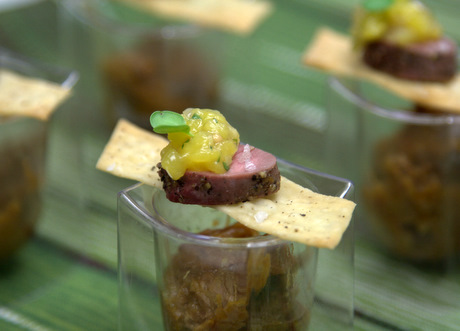 Andrew Springett of Black Rock Resort in Tofino
Braised lamb in coconut curry, coriander cracker, fenugreek lamb tenderloin with Okanagan peach chutney.
Desert Hills 2009 Gamay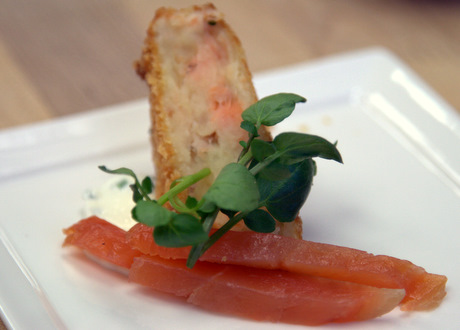 Jennifer Peters of Raincity Grill
Agassiz land-farmed coho two ways. Cured coho, and coho brandade croquette, with horseradish & chive creme fraiche.
Sumac Ridge Tribute Private Reserve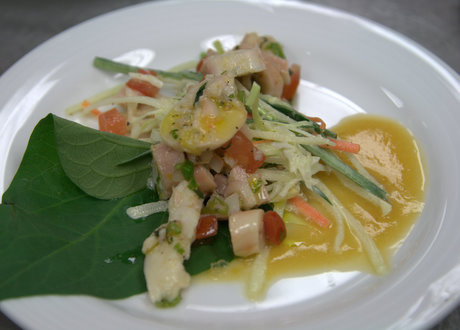 Brain Fowke of Kitsilano Daily Kitchen
Braised 5-hour octopus, cucumber/tomato/carrot/kolrhabi slaw, yellow plum vinaigrette, sweet yam leaf, Maldon salt.
Perseus 2009 Synergy Sauvignon Blanc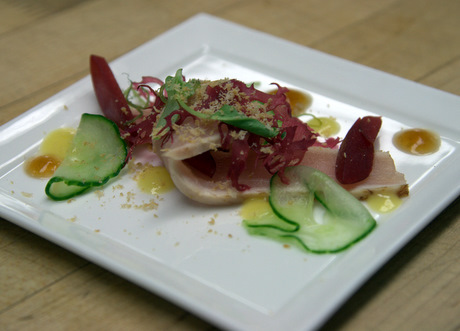 Quang Dang of Diva at the Met
Seared Albacore tuna, cucumber, elephant plum, salted shiro plum and ponzu vinaigrette, red and green nori, garnished with house made albacore tuna bonito shavings.
Chateau Ste Michelle 2008 Riesling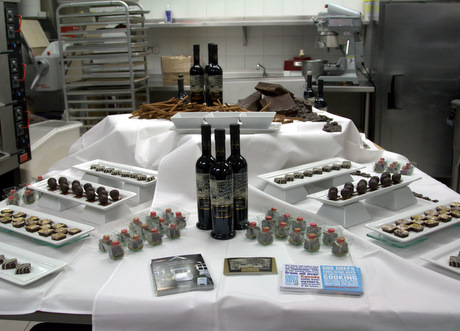 Chocolates by Pacific Institute of Culinary Arts
Coffee brownie shooters with raspberry marshmallow, crunchy chocolate hazelnut squares, coffee truffles, blueberry macadamia nougat with pistachios.
Vista D'oro 2007 D'oro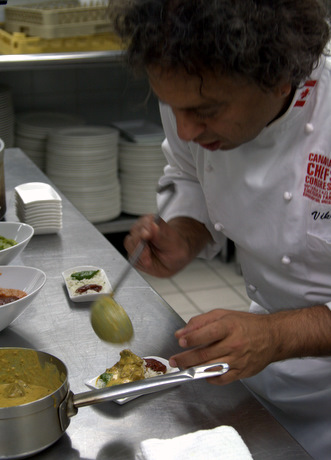 Vikram Vij of Vij's
Stewed spicy goat in fenugreek curry, mango mint chutney and date chutney over basmati rice.
Laughing Stock 2009 Pinot Gris
Any chef, cook, culinary student, or individual that is interested in the industry should learn more about the congress; it's a Canadian cause that is well worth supporting. Tickets for the conference are $200, and culinary students get a 10% discount. It seems like a great price considering the number of events that are packed into the two days (workshops, discussion panels, seminars), plus food and drink.
Canadian Chefs' Congress 2010: Oceans for Tomorrow
September 11 & 12, 2010
@ Providence Farm, Duncan, BC