That Pasta Sauce That So Many of My Friends Love
Posted by Cara Payne on Monday, December 20th, 2010
Tags for this Article: guest, italian, Pasta, Vegetarian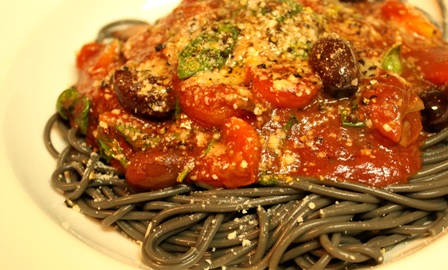 Our guest post today is by Cara Payne. Cara's first foodists article should have been about eroticism or sexuality, considering her education and interests, but she chose to go with pasta, another of her guilty pleasures.  Cara is an archivist, art historian, librarian, digital asset manager, book buff, recovering Goth, and most things in-between (and plenty that's not).
Cara grew up in the Okanagan so she knows what real fruit tastes like, though sadly these days, she can barely eat any of it because of her allergies.  It is sad, but knowing what you're missing is better than never having tasted it at all.
I have fed many iterations of my pasta sauce to friends over the years (many have begged for it) but have never once shared the recipe with anyone. Likely because it changes every other week, but more likely because I've never felt so good about sharing it. It's simple, easy, fresh and delicious, and – like most Italian sauces – so easy to adjust to your personal taste.
The recipe below will comfortably feed two so please take your own liberties with quantities and do toss in extras (other veggies, meat, etc…).


I particularly love this sauce with squid ink noodles (probably because I'm a recovering goth and still love all things black) but any high quality pasta works. The sauce should only take about 15 minutes to make so prep everything while the water for your noodles boils and make it all concurrently.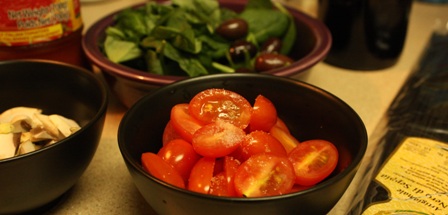 Ingredients:
1-2 Tbsp olive oil
1-2 tsp sea salt
Freshly ground pepper
1-2 cloves garlic, minced
1-2 white mushrooms, diced
10-15 cherry tomatoes, halved
1-2 cups strained tomatoes (depends on how saucy you want the sauce)
5-6 leaves fresh basil, chopped/torn
Handful of fresh baby spinach, chopped or whole
5-10 Kalamata olives, pitted
Red wine (optional)
Cheese (mozzarella, Parmigiano-Reggiano, Bocconcini…you choose)

Method:
Heat the oil over medium high heat in a saucepan; add salt, pepper, garlic and mushrooms and sauté until the mushrooms are sealed.
Add the tomatoes and sauté for another minute or two. If you decide to add some wine this would be the time to do it (I'd suggest a peppery Merlot that pairs well with pasta).
Let this cook down for a bit and then add the strained tomato sauce. Stir and bring to a boil, then turn the heat down to simmer.
When the noodles are almost ready, add the olives, basil and spinach – but don't stir them in, just let the greens wilt on top of the sauce until you're ready to serve.
Simmer for a minute or two with the lid on while you strain, rinse and plate your noodles.
Once the noodles are ready, stir the greens into the sauce. Pour sauce over your noodles and pile on as much, or as little, cheese as you like. Top with fresh ground black pepper and a pinch or two of fleur de sel to finish.