The Resolutions and The French 75
Posted by Jules Morgan on Tuesday, May 24th, 2011
Tags for this Article: cocktails, French 75, new year, resolutions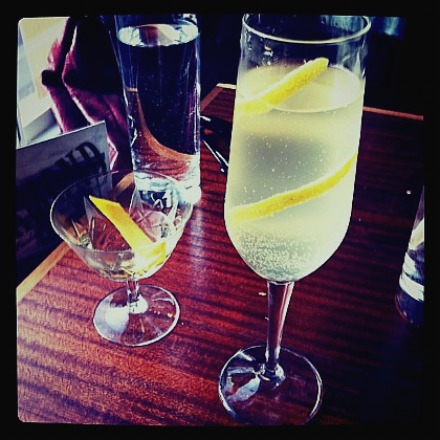 I've never been all that good at New Year's Resolutions. Like most people, any half-hearted attempt of mine to carry out a well meaning intent rarely makes it past the first few weeks. I'll start running again this year! This year will definitely be the year that I finally learn to speak Croatian fluently! I'll eat better, work out more, pay my bills on time, write more letters! Before I even finish the sentence, I already know in my heart of hearts that my procrastination will win out in the end.
So the last few years, I decided to make determinations that I know I would keep. Why make a resolution you know you'll break, when you can make a resolution that is more realistic? 2011 came in surrounded by friends, dancing and champagne, so why not see that through the year? Hence 2011 will be the year that I drink more champagne and search out Vancouver's best French 75.
Now, I know that we're already in May, but the last few months have been busy with… research. All for the benefit of you, dear Foodists. Really. Don't say I don't work hard for you.
So what exactly is a French 75? Rumoured to have been crafted by Harry MacElhone at Harry's Bar in the early part of last century, the concoction of champagne, gin, lemon juice, sugar topped with a lemon twist is said to "have such a kick that it felt like being shelled with the powerful French 75mm howitzer artillery piece". That is my kind of drink.
But who makes Vancouver's best? As the year opened, Corner Suite shut its doors, and with it, my favourite French 75. With Vancouver's burgeoning cocktail scene, and restaurants opening and closing on a regular basis, I know I have my work cut out for me.
In the meantime, I shall continue to spend 2011 sipping my way through the city trying to find that out. Care to join me?
My faves so far include The Diamond, Jay Jones' (at Market), Tableau. As well, try the Japan 75 at Hapa Umi. It almost threw me off course.