A London Lunch—at Dinner
Posted by Laura Siciliano-Rosen on Sunday, June 5th, 2011
Tags for this Article: Dinner by Heston Blumenthal, england, historic food, London, review, The fat duck, traditional food, Travel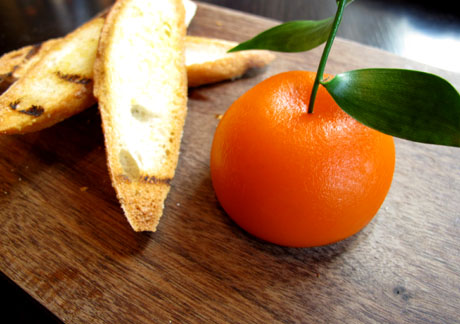 I am not one of those traveling foodists who makes reservations at all the top-tier restaurants in town when visiting a new city. In fact, I usually make none—when I travel these days, it's to seek out a city's most traditional, typical local foods in order to cover them on my website, Eat Your World, and those generally aren't the types of foods peddled at the Jean-Georges of the world. So it was with joyful surprise that, planning a recent trip to London, I learned that that city's hottest new restaurant—Dinner by Heston Blumenthal—actually concerns itself with the historic, traditional foods of England. Even more surprising, given the hyperbolic reviews, I scored a lunch reservation just a month in advance.
That was how, last month, my husband and I came to wander into the posh Mandarin Oriental at noon on a Tuesday, following a week of gastropub-grazing and beer-tasting, searching out London's best kippers, cider, and Chelsea buns (among much more). We'd had a few recommendations of what to order at Dinner, but I was in no hurry to hand over my menu. Every dish listed is accompanied not only by a brief description of its components, but also an approximate date of origin—hay-smoked mackerel (c.1730), spiced pigeon (c.1780)—and further annotation on the recipe's source of inspiration, generally a centuries-old dictionary or cookbook. It is a menu to study and inquire about, the culinary narrative of a country's past delineated as starters and mains.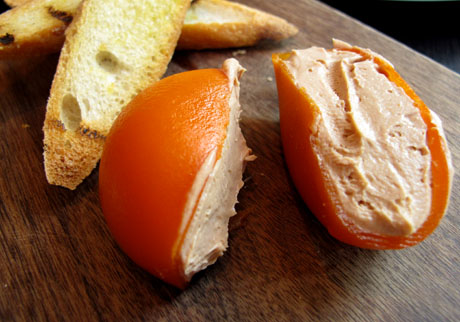 The staff knew their stuff. Meat fruit (c.1500), one explained, was based upon the "illusion fruit" of yore—when, after medieval dinner parties, the hosts would serve a basket of fruit, one or two of which would cheekily be filled with minced meat. Contemporized here, it's a dreamy, mousse-like parfait of chicken liver, foie gras, cream, and brandy, molded and frozen and dipped into mandarin gelatin, served with skinny buttered baguettes. (And although Mr. Blumenthal is famed for his three-Michelin-starred temple to modernist cuisine in Berkshire, the Fat Duck, those real-looking textural dimples on the exterior? A happy accident.) Light as air, with subtle mandarin sweetness, it was an immediate contender for Best Thing I Ever Ate.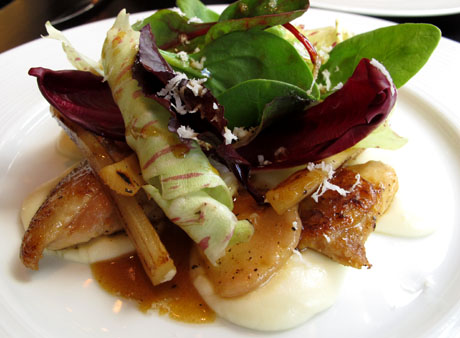 That is, until the next course arrived. Two different servers had urged us to order the salamagundy (c.1720), which one described as a hodgepodge warm salad from the days before cold vegetable salads were common, and which the menu vaguely explains as "chicken oysters, bone marrow, and horseradish cream." Not sure what to make of that, we went for it, and thank heavens. Four chicken oysters—those sweet little nuggets of flavor-rich dark meat from the back of a chicken—are joined by slivers of bone marrow, leafy greens, and roasted salsify atop a horseradish puree (pictured above). It might still sound odd, but somehow those ingredients sing on the same plate. Absolutely marvelous.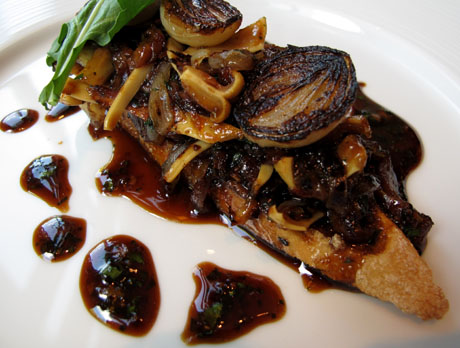 The ragoo of pigs' ears (c.1750), off the set lunch menu, was perfect: a dark, meaty mess of tender shredded ears, sweet onion, and parsley over toast (pictured above). The roast quail (c.1590), a blast from the past currently popular in London's gastropubs, was four delicious pieces of game bird in a tarragon-rich sauce with smoked parsnips and a silky potato puree. Dessert was brown bread ice cream (c.1830), a wonderful sweet-and-savory contrast of olive oil cake, unsweetened ice cream, and toasted bread crumbs atop gooey salted caramel.
What a beautiful, respectful tour of England's old, largely forgotten foods. It's the kind of meal you want to extend over hours and hours, but alas, after a bottle of wine and a pot of tea, we recalled the size of our wallets and packed up to go—but not before Dinner surprised us again: Our server kindly offered to take us to the glass-walled kitchen to meet the chef. Not Heston, but head chef Ashley Palmer-Watts, a friendly bloke from the countryside who briefly regaled us with stories of our hometown, New York City, which he recently visited to hang with his buddies David Chang and Wylie Dufresne at Per Se.
Life—and lunch—is quite good at Dinner.