May is Asian Heritage Month at Wild Rice
Posted by Degan Walters on Thursday, May 13th, 2010
Tags for this Article: asian, Comfort, culture, festival, heritage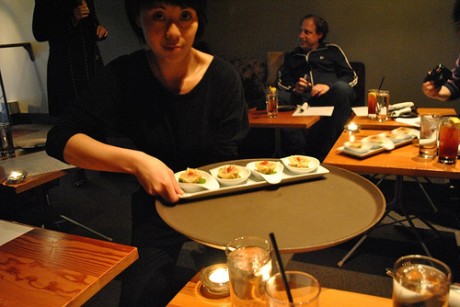 Maybe your comfort food is macaroni and cheese, maybe it's tomato soup. For Andrew Wong, the owner of Vancouver's esteemed Wild Rice, it's congee and sui mai and barbecued pork cha siu…the favorite dishes of his childhood and the inspiration for the restaurant's Asian Heritage Month. The featured menu showcases the kind of food that was a "treat" when mom didn't feel like cooking, but done up in the sophisticated style associated with Wild Rice. They are known for their ability to take traditional dishes and turn them on their culinary heads, so it's no surprise that when faced with a dish like sui mai, it's BC spot prawn and Sloping Hills pork that go into it – making it likely the only sustainably sourced sui mai in the city. It's open-faced and ample, serving as a snack or to be sampled as part of the platter.  The traditional dishes are all priced between $6 and $8 but the heritage platter is a steal for $19 and includes all the favorites; sui mai, dainty curry vegetable bao, cha sui and congee.
Like the sui mai, the congee has it's roots in family tradition, made without cornstarch, the way Andrew's grandfather taught him. And the magical cha siu is marinated for 3 days before being barbecued and served with chives and speckled black and white rice. This is a dish that takes everyone somewhere – even those not raised on traditional Chinese comfort food – and traditionally it's made with throw-away meat doused in sauce. At Wild Rice, Andrew and Chef Todd Bright have asked the question, "imagine what it would be like if you used the best pork?" and come up with the fragrant, flavorful answer in a bowl I will definitely be going back for.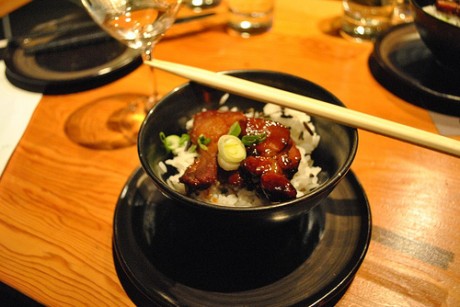 Asian Heritage Month is on through the end of May, and while the comfort-inducing dishes are featured, there are several more classical dishes available as well. Wild Rice is at 117 West Pender Street(@ Abbott Street).