There Ain't No Party Like a Spot Prawn Party
Posted by Sylvia Rigakis on Monday, June 13th, 2011
Tags for this Article: John Bishop, Refuel, spot prawn recipe, Spot Prawns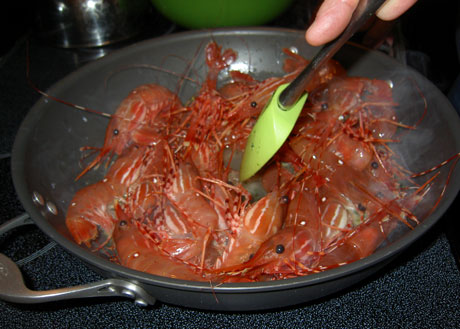 One of the best things about moving from the prairie to the coast is access to things such as in season seafood. So I was more than excited when on the long weekend in May my good friends Effy and Greg invited me over for a spot prawn party.
After consulting a few recipes the crew decided to cook the prawns two ways.
Inspired by a recipe from John Bishop we got the first bunch drunk by marinating them in white wine. After they were good and liquored, they were steamed in copious amount of butter and garlic. They were then finished with fresh parsley and paired with a fresh crusty white bread and a bottle of Kim Crawford Pinot Gris. The result was that when sucking out the yummy prawn brains you got a nice hit of wine and butter.
After the fist batch we decided to go Asian and tried a recipe from Refuel. Greg started by making a soy based dipping sauce with garlic, shallots, serrano chiles, honey and sesame oil, and then threw the prawns for a quick boil into chicken stock. The consensus was that we liked the first method better as we found them overall more succulent and flavourful. However the small children and the dog loved both!
Full of spot prawn goodness I was surprised to know that we were also eating a main course, Effy had roasted lamb. Moving away from the traditional Greek method of garlic and oregano she had coated the lamb in a paste made of crushed fresh basil, rosemary, thyme, marjoram, salt and pepper corns. And not full enough we finished the meal with homemade strawberry shortcake, pecan and banana shortbread and cupcakes.
I was sad to hear the fresh spot prawns were only around for a few weeks—I'm already looking forward to another good feed next year.
Find these and more spot prawn recipes here and here.
And if you've got a favourite spot prawn recipe please share it with us!