Braised Lamb at Thanksgiving
Posted by Steve Mynett on Monday, October 11th, 2010
Tags for this Article: braising, Cutter Ranch, dinner, lamb, shoulder
While dining rooms across the town are full of turkey, stuffing and a variety of family variations on thanksgiving classics I turned myself loose on my kitchen for a pre-thanksgiving dinner of sorts seeing as mine's tomorrow. With a recent order of lamb from Cutter Ranch in my freezer and a rediscovered interest in braising I set out to prepare myself a bit of a reward for a week of hard work.
The plan was simple. Take a lamb shoulder steak and braise it until it was as tender as possible and accompany it with some seasonal sides. And as the case with all culinary adventures, I tried to keep this recipe free as the element of discovery is part of the enjoyment (even if it leads to failure now and again!)
The basics of braising are fairly easy to learn and luckily for me, pretty difficult to screw up. Sear some meat and then cook in stock for as long as you can stand the mouth watering smell in your kitchen before you pull the dish out and serve. The variations along the way create the uniqueness in every dish.
I seared the lamb and chopped and sweated 2 large red onions and then layered it all together in my dutch oven. I added some minced garlic on top of the lamb and some carrots for good measure.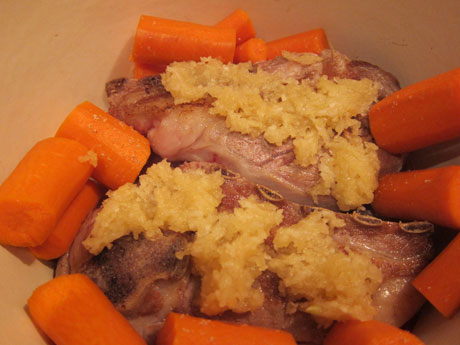 Then I added 1.5 cups of lamb stock (all I had on hand and could have used a little more) and finished it off with a glass of red wine. Add a boquet garni of parsley, thyme and a bay leaf and this was ready to go in the oven for a while. It ended up cooking for almost 2.5 hours on 325 degrees.
While it was in the final stages of cooking I threw some butternut squash in the oven (cubed and tossed with butter, brown sugar and thyme) and carrots (pan fried with crushed chilies and maple syrup). To finish the braised lamb, I just took the liquid from the dutch oven and reduced it in a pan. (by almost 70%)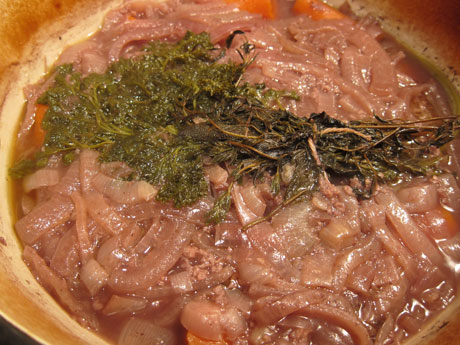 My recipe-less adventure was far from perfect (would have used less onions for starters!) but for me the creative process without a recipe is much more natural and organic. I'm also excited to have rediscovered braising and returning to it with numerous variations soon! Next up? Braised short ribs!