Curry on the Sunshine Coast
Posted by Gen Handley on Friday, June 15th, 2012
Tags for this Article: British Columbia, curry, Indian food, Kashmir, Spot Prawns, Sunshine Coast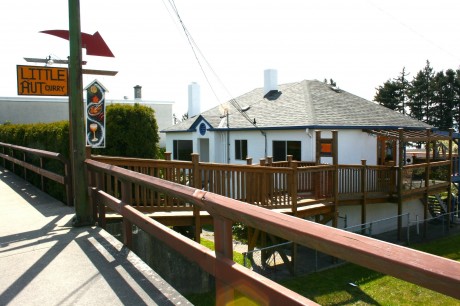 After the six hours of car and ferry travel, I needed something to eat that wasn't prepped the night before or didn't have saran wrap stretched around it like a band-aid – I needed something that would wake up these weary taste buds.
We were travelling up the Sunshine Coast to Desolation Sound where there were promises of fresh seafood and pretty landscapes, and there was when we got there – lots of briny oysters, manila clams and doe-eyed rockfish. But as usual, the en-route portion required some culinary compromise. Until we found Little Hut Curry in Powell River.
Powell River's a great community, with great people as well as an amazing fishing shop –  Powell River Outdoors will hook you up (yep, I did that) with all of the tackle, licenses and angling advice you will ever need.
My friend and I window-shopped some decent-looking restaurants, but saw nothing that would seem to hit the increasingly elusive spot. I came across a wood sign that had "Little Hut Curry" in block letters, stretched over the sidewalk like a hitchhiker's thumb. The "little hut" was actually a converted house with all of the coziness that you might have in a mid-sized bungalow. After walking in, we were greeted by owners and chefs Mohinder and Janmeet Singh, who assured us that they would gladly extend the lunch-serving time of 2:30 to whenever we were ready to go – it was about 2:15 at the time.
The citrus-coloured walls of Little Hut Curry were dotted with paintings by local artists and there was the soft hum of traditional Indian music in the background – I could feel my haggard karma improve with every note.
We both ordered home-brewed chai followed by curry shooters to start –non-alcoholic, intense and piquant. We sipped our chai over the rattling and chopping of Janmeet preparing our main orders. My steaming prawn curry (with crispy spot prawns) was colourful with the perfect amount of heat in a savoury makhani sauce. It was some of the best curry I have ever had. I easily finished my friend's paneer curry, a dish rich in peas, big chunks of al-dente potato and squeaky paneer – and also delicious.
After to coming back to Vancouver, the little hut on the Sunshine Coast was still on my mind – and my tongue – so I contacted Mohinder to ask him  about his restaurant and how he brought curry to Powell River.
What's your name?
Mohinder Singh.
Where are you from originally?
From Kashmir, India.
When did you open?
We started as a small catering company in 2008 at the local farmers market and then that followed by attending local fairs. We opened as a restaurant in 2009.
How did you end up in Powell River?
I'm a consultant specializing in the design and engineering of water-treatment systems. After spending over a decade in Singapore, we immigrated to Canada and I started to work for a Saskatchewan company. I managed to work out an option to work from home and we decided to move and live on Sunshine Coast. Janmeet has passion for cooking and I'm a bit of a food critic so we decided to get into this business – I provide support for her in day-to-day operations and she is in charge of cooking.
How has the local response been to your food?
We are very happy to bring our ethnic food and home style cooking to the community. The response has been very good.
What's your most popular dish?
Our ethnic Kashmiri cuisine dishes like Lamb (Rogan (red) Josh (passion)) and Butter Chicken, a Northern Indian dish.
Where are the recipes from?
They're from Northern India, specifically from the Kashmir cuisine.
Where do you get your ingredients from?
The spices and main ingredients are from India and Pakistan. We also play locally with fresh produce like salad greens and fresh spot prawns.