Toronto Street Food… More Please!
Posted by Rob Davidson on Thursday, June 23rd, 2011
Tags for this Article: 1000 tastes, Chippy's, festival, Kho San Road, Street Food, Susar Lee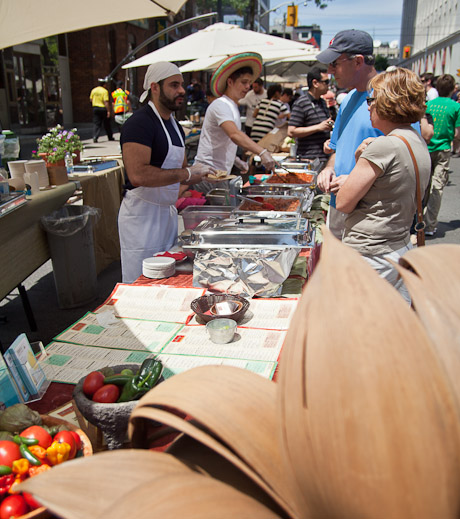 Last weekend Toronto was treated to 1000 tastes, a street food Festival on John Street in the heart of downtown. Some 20 or so restaurants lined the street with their booths offering a wide variety of tasty treats to the crowds of strolling diners. The variety and abundance of food, drinks and treats threatened to overwhelm, so the order of the day was comparing notes with other visitors to see what they had discovered. Susar Lee  (always a crowd pleaser at these events) had a definite hit on his hands with his delicate but flavourful lettuce wraps.
One of T.O's most popular Japanese restaurants, Edo, offered a variety of delicacies, including a Kobe beef slider that I thoroughly enjoyed.
For those with a longing for the ocean, satisfaction could be had fresh or deep-fried…delicious either way!
I was delighted to see my favourite new Thai restaurant  on the scene. Of course hailing from Thailand they truly understand the notion of street food. I really liked their quaint little sign, which made me smile as I pigged out on their food.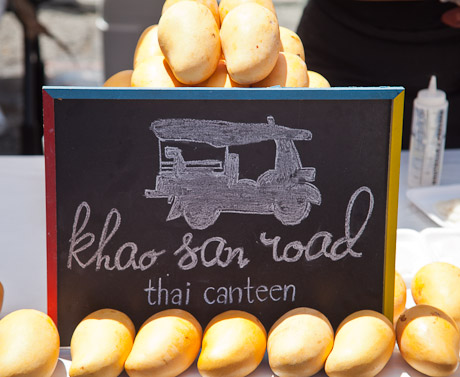 As I watched the large crowds milling about, excitedly comparing notes and sharing food, sun and laughter, I couldn't help but wonder why can't Toronto have this all the time?
RANT WARNING: HERE I GO!
What the #!%##%#???
what's wrong with Toronto?!
In a city renowned for the diversity of our ethnic and local foods how is it possible that none of this great richness is offered on our streets?  If we can have such great street food festivals such as this one and the many others that enliven our summer, why is it that all we can get on a day-to-day basis is a meager selection of sausages and french fries? Surely we can do better!
Three years ago City Hall promised to open up our street food scene by licensing a variety of street carts. However they managed to encumber the whole process with such ridiculous bureaucratic red tape and outlandish costs that the project seems to have died in its infancy. It's time that the bureaucrats loosen their belts, relax and chow down! Give us our street food and let us share the bounty on our streets and in our parks. Our new mayor obviously enjoys his food so maybe there's hope.
I gather that those of you in Vancouver have been enjoying an expanding street food scene, with more and various carts and trucks being licensed each year. I'd love to hear about your experiences in response to what's been happening on your streets. How's the dining à la cart?