Move over, Mozzarella
Posted by Bryn Mooth on Thursday, June 30th, 2011
Tags for this Article: balsamic vinegar, cheese, Salad, strawberries
It's really cool when your life's path happens to cross someone else's, and you make an interesting connection. That path-crossing led me here, to Foodists, as a new contributor.
Long story short: A mutual acquaintance introduced me to Mark Busse when I very recently made a huge career leap from a 20-year (gulp!) gig in publishing to become an independent writer focused on food. Mark graciously invited me to join the Foodists family and share recipes and kitchen wisdom from the Midwestern U.S.
A quick bit about me: I'm an avid home cook, farmers' market devotee and advocate for eating locally, and I come from a long line of cooking enthusiasts. My foodie website, writes4food, is a way for me to connect my two passions—you know, writing and food. I'm always excited to turn other people on to recipes and ingredients that I've discovered.
Like burrata.
While visiting my brother, Bill, who's a chef and culinary instructor living and working in Chicago, I had occasion to try something new to me: burrata cheese. It rocked my world.
What's burrata? Imagine that fresh mozzarella, fresh ricotta and cream all partied together. Burrata resembles a ball of fresh mozzarella; when you cut into it, you find this soft, creamy, curd-y interior that is meltingly good. The flavor is mild and creamy, and the texture is soft, not rubbery.
If you like you a good caprese salad in summer—you know: garden tomatoes, fresh mozz, olive oil and basil—then you need to try same with burrata instead. It will make you weep.
Recently, I spotted this recipe for a salad of strawberries and burrata on BonAppetit.com, and adapted it slightly (mostly, I didn't fuss with making a balsamic syrup and used straight balsamic vinegar instead). It's on the rich side and makes a nice first course to be followed by a lighter main dish. In summer, Rob and I like to eat tapas-style, with a couple of light, seasonal dishes spread out over the course of an enjoyable evening. This recipe for strawberries and burrata cheese is perfect for that kind of eating.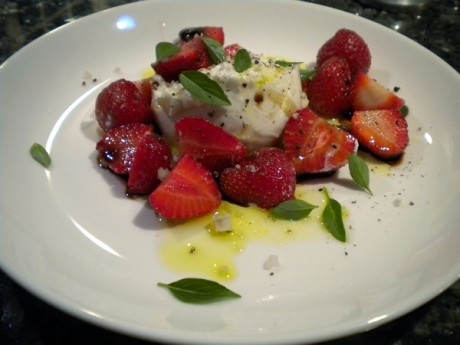 Strawberries with Burrata and Basil
1 ball burrata cheese (you'll want the cheese to be at a cool room temperature, not refrigerator-cold)
handful of fresh strawberries, washed, trimmed and halved
drizzle of good olive oil
drizzle of balsamic vinegar
sea salt and fresh cracked pepper
slivered basil or tiny basil leaves
Halve the burrata and place each half on a salad plate. Scatter berries over and around the cheese, then drizzle with oil and vinegar, and season.
Note: In Cincinnati, where I live, I can find burrata at Trader Joe's and at Whole Foods.