Steak Sandwich
Posted by Steve Mynett on Sunday, January 25th, 2009
Tags for this Article: basil, bocconicini, caramelized onions, onions, pine nuts, steak, striploin, tomatoes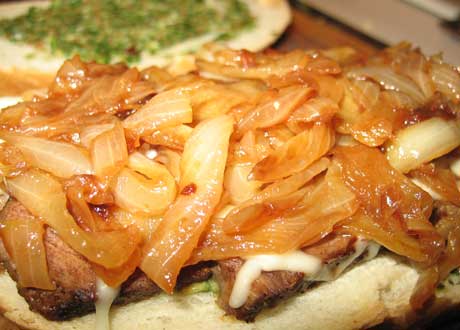 Last night I had an itch that only a steak sandwich could scratch but knew I wanted to go beyond steak and bread, and add my own twist to it. I knew I wanted to add some caramelized onions and I had an abundance of parsley in the fridge. On top of that Mark is always talking about his love for mustard so with these ideas in the back of my head I ventured out to buy some fresh ingredients.
Prep:
Before doing anything else I started caramelizing the onions so they would be nice and done in around 45 minutes when everything else was ready. I also rubbed my 6oz strip loin steak with fresh cracked pepper, salt and olive oil and left it on the counter to approach room temperature.
Salad:
Shopping while being hungry is always a bad idea so before I dove into sandwich making I wanted to have a quick bite to eat and a fresh tomato and bocconicini salad. Chop and combine cherry tomatoes, mini bocconicini, freshly chopper basil, pine nuts and drizzle olive oil and balsamic vinegar over it. A nice simple start to the meal.
Steak:
I pan fried the steak and when it was approaching medium to medium I took it out the pan and cut into 1/3″ strips. Wanting to add some flavour to it, and cook it just a little bit more I reduced the sucs with chicken stock and dijon mustard. Once this has reduced by about half, reduce the head to low add the sliced steak and turn after two minutes.
Aioli:
Add parsley, dijon mustard, two cloves of garlic and olive oil into a food processor and blended it throughly. I wanted to make this pretty runny and pour it over the sliced steak, but it ended up being more of a spread.
Combining it all together:
I slightly toasted some sourdough bread (so it doesn't even start to brown). Once toasted, spread the aioli on either side and take the steak from the pan and add it to one piece of the bread. Ideally the steak shouldn't have too much extra sauce so the bread doesn't get soggy. Then, add some grated provolone cheese (liberally) and put that slice back into the toasted until the cheese is melted. By this time the onions should be fully caramelized so add them in and the sandwich is done! Ideally this would be served with fries, but for me some chips had to do the trick!