The Ultimate Montreal List for Discerning Foodists
Posted by Karen Hamilton on Wednesday, November 2nd, 2011
Tags for this Article: alcohol, foie-gras, Montreal, nightlife, poutine, quebec, souvenirs, Travel, Wine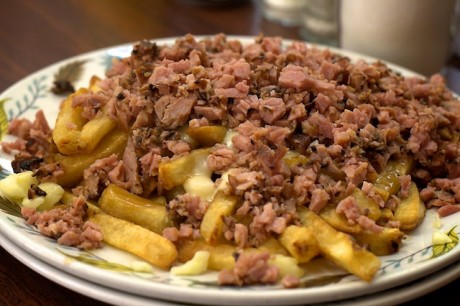 Foodists Brenda and Mel have recently had dining adventures in Montreal, and I am embarking on one tomorrow in 8 hours care of Van Houtte Coffee. My big red suitcase is stuffed with empty space, save for one empty insulation bag to refrigerate the foie and smoked meat that will return with me.
I've gotten some great Montreal suggestions over the past two weeks, so here is what I propose: a bookmarkable, time-hardy compendium of must-do eateries in the city!
I'll get the ball rolling below with the list I've compiled. When I return from Montreal next week, I'll update this post with any new faves. Whenever another Foodist goes to Montreal in the future, I hope they remember this anthology and update it with their travels, too.
Here we go!
If you've only got a day
SAQ Signature Store
677 Rue Ste-Catherine Ouest
Mon-Wed 10:00 AM – 6:00 PM
Thu-Fri 10:00 AM – 9:00 PM
Sat 10:00 AM – 5:00 PM
Sun 12:00 PM – 5:00 PM
Brenda: If you're staying downtown, you must visit the SAQ Signature store on Sainte-Catherine. The selection and prices of high-end and specialty spirits and wine is better than anything in Vancouver. Just make sure to pack it well in your suitcase and get the airline to stick a Fragile sticker on it. [We lost one of our bottles on the way back but most of the leakage was contained. Now one of my suitcases smells like Riesling.]
Au Pied de Cochon
536 Avenue Duluth E
Tue-Sun 5:00 PM-12:00 AM
Brenda: Au Pied de Cochon is a must if you've never been and if you like foie gras and pork. The foie gras cromesquis–deep fried foie cubes–are insane. Duck in a can, foie gras poutine and the foie gras burger are my favourite entrees. Their specials are also really good. Foie gras in Montreal is so cheap and good.
Lester's Deli
1053A Bernard Ave
Mon-Fri 9:00 AM – 9:00 PM
Sat 9:00 AM – 8:00 PM
Brenda: Lester's is my go-to place for Montreal smoked meat even though Schwartz's gets all the buzz. Schwartz's is good too but make sure to get the medium or fatty cut.
Fous Desserts
809 Laurier Ave E
Tue-Wed 7:30 AM – 7:00 PM
Thu-Fri 7:30 AM – 7:30 PM
Sat 7:30 AM – 6:00 PM
Brenda: Fous Desserts is my favourite bakery in Montreal. Great croissants and pastries, chocolates, and desserts. It's nice to relax at a table with a croissant and cafe au lait.
Guillaume
17 av Fairmount Est
Tue-Fri 7:00 AM – 7:00 PM
Sat 7:00 AM – 6:00 PM
Brenda: Guillaume is also another great bakery but there's nowhere to sit. It's good for picking up an afternoon pastry to tide you over before dinner. They have these sticky apple rolls that are insanely good.
Lingering for 3-5 days
DNA Restaurant
1840 René Lévesque Est
Tues-Sat 6:30 PM – 10:30 PM
Brenda: DNA was our favourite restaurant when we last visited. If you can, get a reservation at the kitchen table and have the chef cook a tasting menu for you. Make sure you eat minimally that day, and tell him when you start to get full. We ended up having to pack our main course to go. The wine pairings for the tasting menu can get expensive but they will work within your budget and ability to imbibe.
Les Chocolats de Chloe
546 rue Duluth est
Tue-Wed 10:00 AM – 6:00 PM
Thu-Fri 10:00 AM – 8:00 PM
Sat 11:00 AM – 6:00 PM
Sun 11:00 AM – 5:00 PM
Brenda: A great chocolate shop near Au Pied de Cochon. The staff are super nice and friendly, and they give you whole truffle chocolates to sample! Everything is made by hand from fresh ingredients, all done in the shop. If you buy the truffles, the flavours don't last long, so eat them fast.
Sarah B. Bar
360, rue Saint-Antoine O
Located in Intercontinental hotel
Brenda: The Sarah B Absinthe bar is also located in Old Montreal–close to DNA–so it's a good place to have a pre-dinner drink. The cocktail scene out East isn't nearly as good as Vancouver, though. We mostly ordered wine at restaurants because the selection and prices are so much better than Vancouver. Don't order BC wines out there though; the markup is exceptionally high. DNA carries a lot of BC wines because chef/owner Derek is from BC.
Cafe Myriade
1432 Rue Mackay
Mon-Fri 8:00 AM – 7:00 PM
Sat-Sun 9:00 AM – 7:00 PM
Karen: The folks behind Gastown's Revolver Coffee couldn't say enough good things about this place. If my favourite local coffee-slinger likes it, I'm there.
Exploring with a week or more
Joe Beef
2491 Notre Dame West
Tues-Sat 7:00 PM – 9:30 PM
Brenda: Joe Beef seems to be quite the cult restaurant in Montreal (like Au Pied) and they just released a cookbook. Reservations are hard to get, so book early. Warning: it's the darkest and most cramped restaurant I've ever been in. It's so crowded that tables for 2 feel more like tables for 4. You can hear everything beside you and the staff have to pull tables away from the wall when someone wants to go to the bathroom or look at the chalkboard menu. The atmosphere is great fun, though, and the people are very friendly. We liked the appetizers more than the entrees. Lots of foie, pork, and more unusual meats & cuts.
Brasserie T!
1425 Rue Jeanne-Mance
Daily 11:30 AM – 12:00 AM
Brenda: Brasserie T is the casual sibling restaurant to Toque (pass) and Bistro Cocagne (good). Great bistro, new, modern, located beside the Place des Arts museum, and the building looks like it could be a Skytrain station.
Dominion Square Tavern
1243 Metcalfe
Weekdays 11:30 AM – 12:00 AM
Weekends 5:00 PM – 12:00 AM
Brenda: Dominion Square is a good place to have lunch if you're wandering around downtown. The entry is easy to miss. Really old building and the room is very classic. Simple honest food, good sandwiches.
Special interests
Salsa on the side
Montreal is easily Canada's salsa dancing capital. I've been dancing since 1999 and am ashamed to have passed on their salsa scene when I had had the opportunity. Not this time around: my heels are packed and I'll be out every night.
There are plenty of salsa clubs and dance nights to keep you on your toes 7 days a week, but I'll be working my way down this list of long-lived, popular salsa dancing venues; this one in particular:
Cactus
4461 Saint-Denis Rue
Thu 8:30 PM – 2:00 AM
Fri-Sat 10:00 PM – 3:00 AM
A little bit naughty
Montreal's swinging lifestyle has gotten radically muted in the past decade, and the old Red Light district by St Catherine and St Laurent is a place that the city seems to want to sweep under its rug. You can still get some of your peeler kicks at Wanda's and Chez Paree, purportedly Montreal's classiest of such establishments.
Club Wanda's
1458 Rue de La Montagne
Mon-Sat 4:00 PM – 3:00 AM
Chez Paree
1258 Rue Stanley
Mon-Sat 3:00 PM – 3:00 AM
Sunday 7:00 PM – 3:00 AM
If you do decide to indulge in a redder kind of exploration, avoid Club Sexe at all costs. You don't want to see how the dancers retrieve loonies and toonies from their guests' hands. Or mouths.
Share your Montreal picks
Let's work together, reader and contributor alike, to keep this list up to date. A world where every Foodist is armed with a tried-and-true dining guide is the kind of world I'd like to live in.