Le Crocodile Reminds Us What A Fine French Meal Should Be
Posted by Mark Busse on Wednesday, November 9th, 2011
Tags for this Article: french, Le Crocodile, Michel Jacob, restaurant, review, vancouver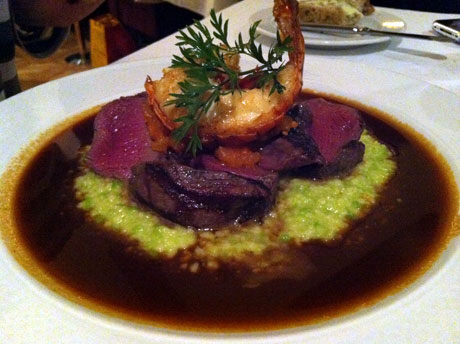 I know this isn't a site where we do a lot of restaurant reviews, but I feel compelled to do a little worshipping, even if it may seem a little obvious to most readers.
Last night Andrea and I found ourselves downtown Vancouver—and we were starving. She suggested we give Dale MacKay's Ensemble another try, but to be honest the crowded, very noisy room combined with the table they sat us at and the loud talking, ridiculous couple at the table next to us, we knew we couldn't stay (sorry Dale). We left and sauntered across the street, ducking into one of our favourite French restaurants, Le Crocodile.
It felt like coming home.
The room was so cozy and well decorated, the lighting was warm and created a comfortable ambiance, and frankly the crowd was of a higher calibre. There was no loud music playing, no clanging sounds from the nearby kitchen, and no blowhards talking loudly. And as with all previous visits to Le Crocodile, the service was beyond compare—they really do have some of the friendliest and most well trained staff in the business. Chef Michel himself popped into the dining room a couple times, chatting with guests like they were old friends.
But then came the food.
And let me tell you dear friends, there is a damn good reason why Chef/owner Michel Jacob and his crew are so often named "Best French" by notable publications such as Vancouver Magazine, Where Magazine, Georgia Straight, Zagat and others. God this place produces some extraordinary food. And when compared to many fine French restaurants, the value is very good. They don't skimp on portions by any means and there are plenty of bonuses, such as a surprisingly sizeable amuse bouche of foie gras and sliced almond tartelette and a delightful little sorbet to finish our meal.
Divine.
Instead of explaining the  meal to you, why don't I just post a few select images and you can go check Le Crocodile out for yourself soon. Seriously, if you haven't been, or it's been awhile, skip the new kids trying to impress the commoners with their "new fare" and head straight to Le Crocodile, where they've been setting the standard for French food in Vancouver for nearly 30 years.